England v India: Ben Stokes makes low-key return to Test cricket
By Stephan Shemilt
BBC Sport at Trent Bridge
Last updated on .From the section Cricket
For Ben Stokes, there would have been an uncertainty over when this day would come.
Since last September, the events that took place outside a Bristol nightclub have either made Stokes unavailable for England, or playing with the threat of legal proceedings hanging over him like a dark cloud.
If Tuesday's verdict had gone in the opposite direction, Stokes' career could have been put on hold for some time and then, after that, unrecognisable from what he knew before.
The all-rounder is still to face the England and Wales Cricket Board's disciplinary commission, yet it may be decided that missing an Ashes tour is a sufficient punishment that has already been served.
Whatever your opinion on Stokes' actions that night, the legal process that followed, or what cricketing penalties he should face, it is not hard to imagine the relief he must be feeling that the whole episode is closer to being behind him.
By the same token, it is difficult to disagree with England skipper Joe Root, who said Stokes is "desperate" to move on and let cricket be the reason he makes headlines from now on.
For this England side, Stokes is a source of inspiration. When they need a game to be taken by the scruff of the neck, he is the man they turn to.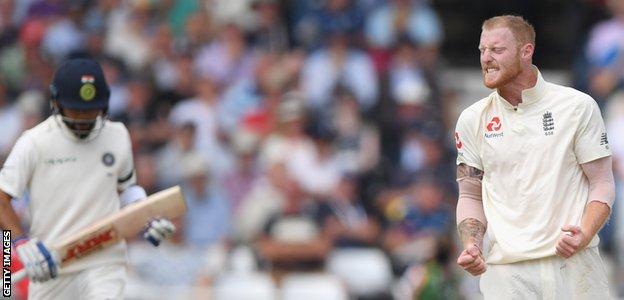 In the first Test against India, when he knew he would be missing the second, Stokes roared in on the final morning. In taking the wicket of Virat Kohli, he broke the back of the tourists' batting and set England on their way to victory.
There are plenty of examples of talismanic figures who have found themselves in hot water, only to return a hero with a script from Hollywood.
When Ian Botham made his England comeback after a two-month ban in 1986, he took a wicket with the first ball he bowled. Eric Cantona scored Manchester United's equaliser against Liverpool after serving a nine-month ban for his kung-fu kick.
For Stokes, on the first day of the third Test at Trent Bridge, there was no movie script and no hero's welcome.
In fact, even though the reception he received when coming on to bowl for the first time was polite, the gentle applause was mixed with some booing. Perhaps his welcome was tempered by a sense of injustice for Sam Curran, left out after some fine performances.
That is not to say Stokes has become unpopular.
In Birmingham, the night before his final-day performance, he was in a restaurant when asked for a picture by a large group of gentlemen. Stokes, very politely, declined because he was with his children.
At Trent Bridge, on the eve of his return, Stokes was the last to leave England's net session. About 25 fans flanked the staircase up to the pavilion and the majority asked for a selfie or autograph. He obliged every request.
In that sense, just like when the morning of the third Test rolled around, it was business as usual.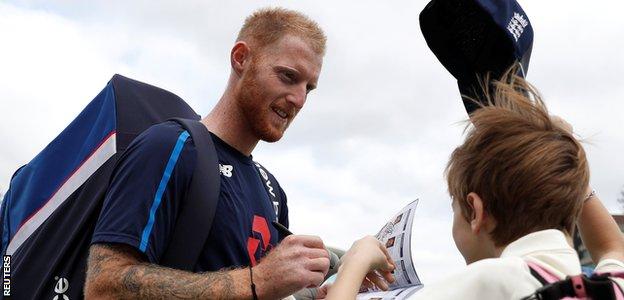 Stokes played in goal (complete with gloves) during England's obligatory warm-up game of football. He shook hands and chatted to Kohli, then took slip catches as the Test Match Special team stood 15 yards away and discussed his inclusion.
After England opted to field, Stokes prowled around at point, walking in circles and clapping his hands to encourage his team-mates. His elbows were covered by skin-coloured bandages, his backside by a long, sleeveless sweater.
Only when Stokes took the ball nine overs in did he not look particularly Stokesian.
Three of his first eight deliveries were long hops. His first seven overs cost 29 runs and his next two 18 more. He cut an increasingly frustrated figure, bowing his head, mopping his brow with a shirt sleeve or blasting at the air with his jumper.
He did at least go shoulder to shoulder with Shikhar Dhawan when trying to field off his own bowling, barging the India opener out of the way. If there was any chance it could turn into a flashpoint, the situation ended with Dhawan draping his arm around Stokes' shoulder.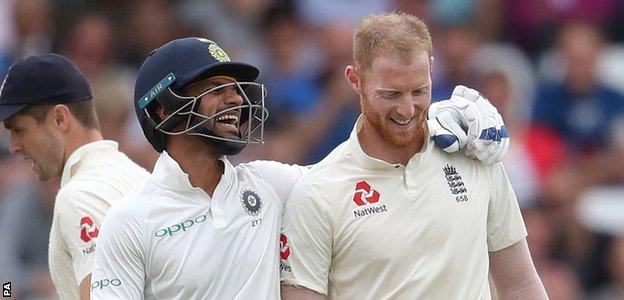 Later, when he was asked to pepper Kohli and Ajinkya Rahane with short bowling, Stokes looked more likely to make something happen. Proof, perhaps, that any attempt to temper the Durham man's on-field aggression would make him a poorer cricketer.
Stokes' day took a farcical turn when he persuaded England to burn their second review on an appeal for caught behind against Hardik Pandya.
With his arms spread, Stokes walked towards Root, and seemed certain the decision would go the home side's way, even if no-one else in the ground agreed. Replays revealed the rest of us inside Trent Bridge to be correct.
He at least held on to a simple catch off Adil Rashid to dismiss Kohli on 97, a moment that formed part of England's late revival.
However, rather than being part of a Stokes fairytale, it was the sort of catch that, if dropped, would have ended in a bloopers reel.
This match is only one day old and there is still time for Stokes to create headlines for the right reasons - a sparkling century, a second-innings burst with the ball, something magical in the field.
For now, though, this first England appearance since a date in court has been low-key, the lack of limelight perhaps suiting Stokes at this moment.
He wants to move on, to concentrate on cricket. Here, the cricket concentrated on other stories.