Kate Cross: England bowler 'didn't know her purpose' during anxiety struggles
Last updated on .From the section Women's Cricket
"I didn't do anything for three days. I just slept and cried."
Just over two years ago, England women's bowler Kate Cross looked to have the world at her feet.
She had broken record after record on her way to playing international cricket, becoming the first girl to be accepted into the Lancashire Academy at the age of 15 before becoming the first woman to play in the Central Lancashire League for Heywood in 2015.
The year before, she had become one of the first 18 women to be awarded professional contracts by the England and Wales Cricket Board.
But unbeknown to all who knew her, Cross was struggling with anxiety and depression.
In her first detailed interview on the subject, the 26-year-old tells BBC Sport how she broke down before an England training camp, how the pressure of having a sportsman for a dad affected her own career, and why she and team-mate Sarah Taylor ended up in a shouting match.
'It was just this sense of emptiness'
In June 2016, England were playing Pakistan in a one-day international at New Road, Worcester. England head coach Mark Robinson told all the players to invite their families along to watch.
It was the first time my family had seen me play cricket, all of them together in one place.
I remember being at third man, I'd bowled an over and it didn't go very well. I put my sunglasses on and I had tears in my eyes. I remember thinking, I'm so out of my depth; I don't know what I'm doing here.
It was just this sense of emptiness. It's quite hard to describe if you've not been through it, and it probably does sound quite dramatic to people who've never felt it.
I'm quite an energetic person - I'm quite bubbly - but I couldn't get myself out of bed.
I was waking up in the morning thinking, what am I doing? I'm getting out of bed for nothing really. I'm not enjoying my cricket. I don't have a job other than that, so I didn't really know what my purpose was when I was getting out of bed.
'Dad stood in front of the car'
From then on, things escalated. Cross had to travel down to a training camp in Loughborough from her parents' house, but her dad almost didn't let her go.
I was sat in the kitchen just crying and my dad came in. He'd never seen me like that before.
He said: "You can't drive down to Loughborough in this state, it's not safe." And I said: "I have to. I can't not go down, it's my job."
I rang the physio and I could barely speak to her, I was in that much of a state. She told me to ring our psychologist, Mike Rotheram.
They both said Robbo [England head coach Mark Robinson] wanted to support me, so he wanted me in Loughborough where the coaching staff were so they could look after me.
I got in my car and my dad stood in front of it so I couldn't drive anywhere. I got out of the drive and within five minutes he's on the phone asking if I'm OK.
I got to Loughborough and I've never had a sensation like this, but I couldn't see the girls. They were all in the lounge and I said to the physio: "I can't go in there. I feel sick. I can't face them, and these are my friends."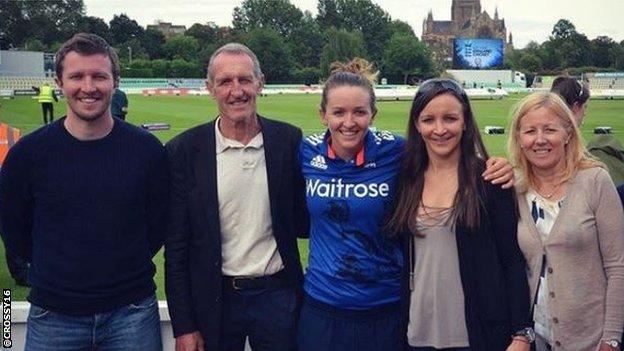 'I went to bed on Wednesday and didn't get out until Saturday'
Robinson was "brilliant" with Cross and gave her the option of training on her own, but the next day, still unable to eat or face her team-mates, Cross left the training camp and returned to the family home.
On the way home - I'm not proud of this - but I stopped at every single services and picked up sweets, chocolate and ice cream. That was my coping mechanism.
I went home and I got straight in bed. My mum and dad knew I was struggling so they kind of just left me to it.
My dad came in and gave me a hug but I went straight to bed. This was on the Wednesday and I didn't get out of bed until the Saturday.
The only thing I did was go downstairs to get some food and go to the toilet, but I didn't shower. I didn't do anything for three days - I just slept and cried.
My dad came in and opened my blinds and I'd go and shut them straight away. That was my way of trying to hide from the world.
I truly believed in those three days when I was laid in my bedroom that there was nothing for me to carry on with. You do have those severely dark thoughts about ending it all.
Robbo rang me again and said: "Why don't you get away, go on holiday, get away from cricket for a while."
I made myself unavailable for the upcoming West Indies tour and I went over to Barbados with my dad. I don't think I spoke to him for the first four days of the holiday, but it actually gave me a lot of clarity.
'You were expected to be good at sport because of your dad'
Cross' father, David, was a professional footballer from 1969 to 1987, and won the FA Cup with West Ham in 1980. Her brother, Bobby, is the manager of Lancashire Thunder, while her sister Jenny is the club's physio.
The psychologist Mike said: "How do you feel that your dad was a professional sportsman?" I said I loved it, I loved hearing about what he did.
When I first got into the England team, in the programme they have little pictures and my first thing was always "ex-West Ham player David Cross' daughter".
I'd never thought of it how Mike put it across to me but he was saying, you were expected to be good at sport before you started playing sport because of your dad.
This was stuff I'd always just taken in my stride as a child, and not thought anything of it. But Mike was saying to me "that's pressure that's been building on you for a long time".
Obviously, it is strange to think that your dad's career can have such an impact on you. I started to notice all the programmes or whenever I did an interview, I was always David Cross' daughter rather than Kate Cross.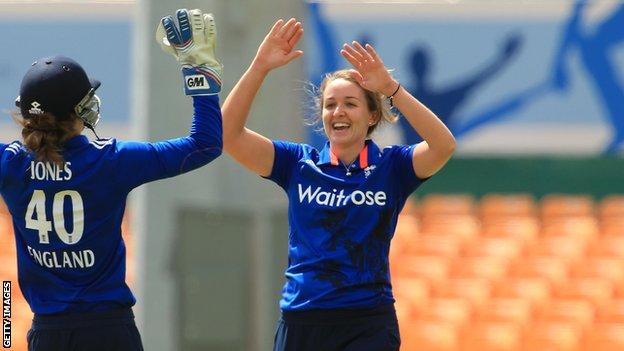 'Sarah and I shouted at each other'
In 2016, England wicketkeeper-batter Sarah Taylor - widely regarded as one of the most talented female cricketers in the world - took a break from cricket and later revealed she had been suffering from anxiety. She returned to the sport a year later and won the World Cup with England in 2017.
We were really good friends, especially when I first got into the England squad - she was my first room-mate. Looking back, all the signs were there.
When she'd taken her break, she did an interview which was brutally honest, and I remember texting her and saying how proud I was of her.
I said: "I think I need to take a break as well. I'm not really sure how to deal with what I'm going through, but I know I need to get away from cricket for a while."
We had this moment where she said: "Wait a minute. You're feeling how you're feeling and I didn't know about it, and I'm feeling how I'm feeling and you didn't know about it - and we've not told each other."
Sarah and I shouted at each other. We said that as close friends that's probably not on and we should have been a bit more honest with each other.
I remember when I was in some of my darkest times, you feel like a burden to people and you feel like everyone's got their own problems and you don't want to add to them.
'It was a special moment for us as a family'
After two years out of the game, Cross made her England comeback in a one-day international against New Zealand at Grace Road, Leicester in July.
I remember saying to myself this summer, I just want to enjoy my cricket.
It's something that I've loved doing from such a young age, that I don't want to waste some of the best years of my life worrying about stats and all the things that come with being a professional sportsperson.
It was a really special moment for me at Leicester when I came back and played in that game. I rang my mum and dad the day before and said: "Are you busy tomorrow afternoon because I'm going to be playing cricket for England again?"
We all had a big hug at the end because we genuinely didn't think I would play for England again. It was just a really special moment for us all as a family.
With me being the youngest of three, there's that sense of protection from everyone.
My brother and sister are very protective of me and they've only ever wanted to see me happy - and for them to see me playing cricket but with a smile on my face again was extra special for everyone.