Ben Curran: Northants sign brother of England all-rounders Tom and Sam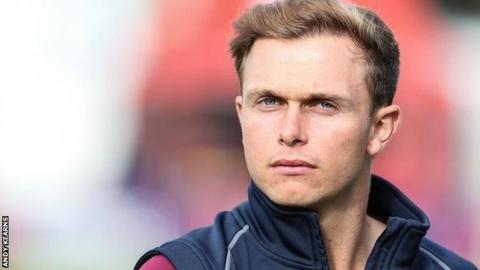 Northamptonshire have signed batsman Ben Curran, brother of England all-rounders Tom and Sam, and son of the late ex-Northants all-rounder Kevin.
Left-hander Curran, 22 has already made two T20 appearances for the county.
But he has now signed a two-year contract to begin at the start of the 2019 season.
Curran, who has played second XI cricket for Northants for the past four summers, will remain part of the first-team squad for the rest of this summer.
"I'm delighted to have signed for Northants," said Curran. "The fact that my dad played here too it makes it even more special to be able to represent this county. I hope that I can contribute in all three formats over the next few years."
Educated, like his brothers, at Wellington College, Curran has also played for MCC Young Cricketers.
Northants head coach David Ripley said: "Ben has scored heavily in all formats for us in the 'twos', as well as continuing to churn out runs for the MCCYC's. He deserves an opportunity. He has a lot of competitive spirit and I know he will make the most of his chance."