England v India: James Anderson could play for another three or four years - Trevor Bayliss
Last updated on .From the section Cricket182
England's leading Test wicket-taker James Anderson could play for another "three or four years", says head coach Trevor Bayliss.
Anderson, 36, took 9-43 in the match as England crushed India by an innings and 159 runs in the second Test at Lord's.
He has taken 553 Test wickets, 10 short of Australian Glenn McGrath's record for a fast bowler.
"He's not just good when the conditions suit him, but in these conditions he's the best in the world," Bayliss said.
"A lot of other bowlers do start to drop off mid-30s or so. It's only the very, very best that are able to keep it going.
"He's showing that he is the very, very best."
Anderson registered his 26th five-wicket haul in Tests with 5-20 on the second day at Lord's as India were bowled out for 107.
He also took his 100th wicket at Lord's in India's second-innings 130 as England took a 2-0 lead in the five-match series.
The pace bowler, who spent six weeks resting a shoulder problem before the India series, said on Friday that he "does not feel old" and would continue playing for as long as possible.
"I don't think about numbers or my age. I feel like, I won't say 28, but 32," he said.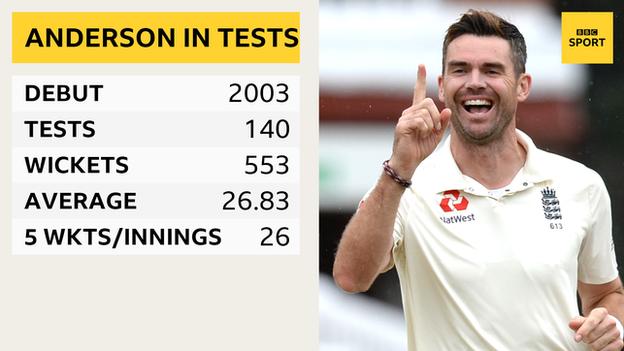 Bayliss added: "The last 12-18 months, he has had a shoulder problem, but at the moment he seems to have got over that pretty well.
"As long as he keeps his body fit, there's no reason why he can't go on for three or four years."
England named an unchanged squad for the third Test at Trent Bridge, which starts on Saturday, with Ben Stokes again missing out.
The all-rounder missed the victory at Lord's because of his trial for affray in Bristol, which is ongoing.
Asked if England's players had blocked out the trial, Bayliss said; "The results speak for themselves.
"The guys are able to put anything off field out of their mind and concentrate on what they're doing, and this was the perfect example."