Steve Smith: Australian regains number one Test batting ranking
Last updated on .From the section Cricket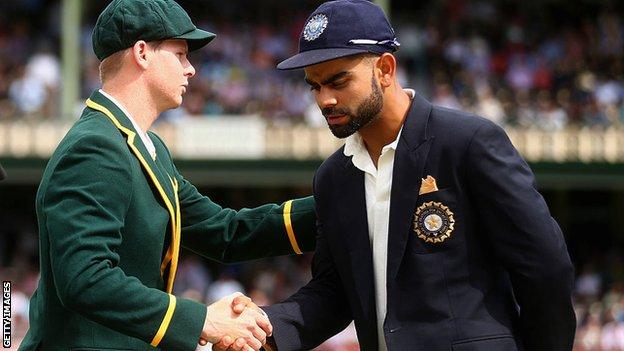 Australian batsman Steve Smith has returned to the top of the Test batting rankings, despite being banned from playing in the format since March.
Smith is serving a 12-month ban from playing state or international cricket for Australia for his role in the ball-tampering scandal against South Africa.
India captain Virat Kohli had taken top spot after scoring 200 runs in the first Test against England.
However, his 40 runs in the second Test defeat has seen him slip behind Smith.
England's Joe Root is ranked third in the International Cricket Council (ICC) Test batting rankings, while his Yorkshire colleague Jonny Bairstow has climbed to ninth after scoring 93 against India on Saturday.
Jimmy Anderson remains the top bowler in the world and has become the first England player to exceed 900 points in the ICC rankings since Ian Botham in 1980.
Anderson, 36, achieved match figures of 9-43 at Lord's to help England open up a 2-0 lead over India in the five-match series.
England's Chris Woakes has broken into the top ten of the ICC's all-rounder rankings following his man of the match performance at Lord's.
The 29-year old has risen to seventh after scoring an unbeaten 137 and taking four wickets as England beat India by an innings and 159 runs.
ICC rankings explained
Players are ranked on a scale of 0 to 1000 points.
A player's points tally represents what the ICC refers to as a "sophisticated moving average".
Points tallies will increase if performances improve upon past records, and will decrease if performances decline.
Kohli overtook Steve Smith at the top of the rankings after scoring 200 runs in his side's narrow defeat by England in the first Test match at Edgbaston.
However, after scoring a combined total of 40 runs in the second Test, Kohli's performance had declined to such an extent that he has lost points.
Smith, who has neither improved upon nor worsened his record during his period of inactivity - has therefore been able to return to the top of the rankings.