Cricket could look at shot clock to speed up play - MCC World Cricket committee
Last updated on .From the section Cricket162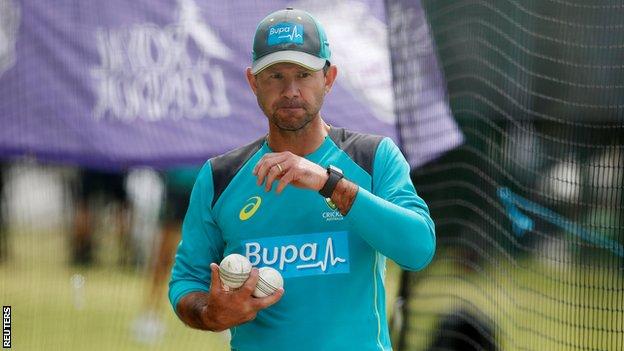 Cricket could introduce a "shot clock" to improve the pace of play, says a group of leading figures in the sport.
The MCC World Cricket committee, an independent panel that can propose changes to the sport's Laws, said it was concerned at declining over rates.
Test over rates are at their lowest for 11 years and Twenty20 over rates have fallen to their lowest ever level.
"A shot clock probably seems a little extreme but the rates have declined," said the panel's Ricky Ponting.
The panel suggested measuring the "dead time" in the game between overs.
"At the end of an over, the fielders and the bowler have to be back in position and ready to bowl by a certain time and that's non-negotiable," said former Australia captain Ponting.
He added the shot clock would not be used to enforce "a certain amount of time for an over to be bowled" because that could be affected by other factors.
Ponting said the panel of former and current players and umpires also discussed different penalties for slow over rates, adding that there was a sense that the current system of fining teams had not necessarily worked, nor been used regularly.
He suggested that a more immediate run penalty administered during the match could be an option.
"You would imagine captains would then take huge responsibility in making sure their players are in a position to go. If, through the course of a game or a day, they're not in position for three or four overs then that could be 20 runs."
Referring to England's 31-run victory over India in the first Test on Saturday, Ponting added such a penalty could decide the outcome of a match.
The Marylebone Cricket Club (MCC) is the guardian of the laws and spirit of the game. Its world cricket committee - established in 2006 - is currently chaired by former England captain Mike Gatting and includes former internationals Brendon McCullum and Kumar Sangakkara and New Zealand women's captain Suzie Bates.
'Ball-tampering bans had desired outcome'
The panel, which met on Monday and Tuesday at Lord's, backed the International Cricket Council's introduction of tougher sanctions for ball-tampering after Australia players were found guilty of using sandpaper to damage the ball during the third Test against South Africa in March.
Ponting, 43, praised Cricket Australia for banning ex-captain Steve Smith and former vice-captain David Warner for a year, with batsman Cameron Bancroft suspended for nine months.
"The reason reverse swing has become such a big issue in the past 10 years is that the wickets have got flatter and flatter and bowlers have been trying to find a way to keep themselves in the contest," he added.
"So let's look at having a fair playing surface then the problem might start looking after itself."
'The Hundred will be recognisable form of cricket'
The England and Wales Cricket Board (ECB) also presented its new 100-ball competition, The Hundred, which is set to run from 2020 to the committee.
In May, ECB chairman Colin Graves told BBC Sport the new competition was being proposed because young people are "just not attracted to cricket", though there has been criticism of the format and no final decision on how it will work.
However, the World Cricket committee said it was "reassured that the new competition would still be a recognisable form of cricket" and commended ECB for its desire to seek new audiences.
The panel also discussed protection for bowlers, stating incidents such as Nottinghamshire bowler Luke Fletcher being struck in the head by a ball in last year's T20 Blast gave "serious cause for concern."
"The ECB and MCC have been in discussions to launch a design project for manufacturers to develop head protection for bowlers and the committee is supportive of this move," it said in a statement.