Just not cricket! Club bowler's actions stop batsman making maiden ton
By Mandeep Sanghera
BBC Sport
Last updated on .From the section Cricket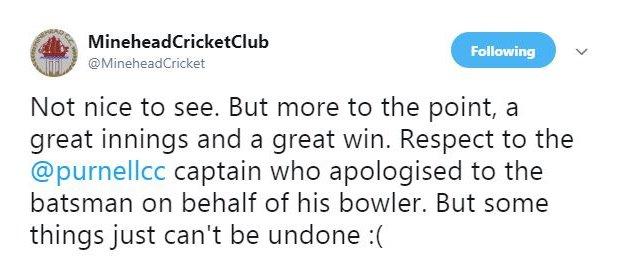 You're on 98 and your team needs two runs for victory. A maiden century is yours for the taking.
Club cricketer Jay Darrell found himself in exactly that situation on Saturday - and what happened next has caused a fair bit of controversy in the Somerset Cricket League.
Instead of delivering the ball, a Purnell Cricket Club bowler chose to send it to the boundary to give away four runs and one for the no-ball - thus denying Minehead batsman Darrell his century.
"Not nice to see," said Minehead Cricket Club on Twitter. "But more to the point, a great innings and a great win.
"Respect to the Purnell captain who apologised to the batsman on behalf of his bowler but some things just can't be undone."
Darrell, who finished 98 not out, also commented on social media, although he was a little more diplomatic about it all.
"Hell of a game today," tweeted Darrell. "Shame the way it ended but oh well."
It completed a fantastic all-round match for Darrell, who took 3-22 as Purnell made 280-7 in their innings.
Responding to criticism on Twitter, Purnell's official account said "the unsavoury scenes to end the game can't be condoned" and both the bowler and the club's captain had apologised.
They said the matter will now be" dealt with internally by the club".