England v India: Sparks could fly after Virat Kohli's send-off to Joe Root - Jonathan Agnew

By Jonathan Agnew
BBC cricket correspondent
Last updated on .From the section Cricket
After a promising start, the first day of the first Test against India at Edgbaston ended up as the same old story for England.
To close on 285-9 after winning the toss is a disappointment. No-one scored a hundred, players got out after getting starts and, yet again, England will be looking to pace bowlers James Anderson and Stuart Broad to dig them out of trouble.
The frustration for England on this occasion might be greater because they played well for the first two sessions.
They were determined. They defended stoutly on the front foot and scored when the ball was dropped short.
England worked hard to get through a first hour that saw India find plenty of movement. Thanks to Joe Root, Jonny Bairstow and Keaton Jennings, they reached 216-3.
In a moment, everything changed.
From my perspective, blame for the run-out of Root should be shared between the England skipper and Bairstow. It looked to me like it was a joint mistake.
It seemed that they always wanted to take a second run, as if they were shouting "two, two, two" as they crossed for the first.
It may well have been two to most other fielders. The problem was, the fielder was Virat Kohli.
Quite simply, Kohli is a brilliant cricketer. We know all about his prowess with the bat and the way he marshals his team leaves you in no doubt that he is the man in charge.
On this occasion, he pulled off a superb piece of fielding, throwing off-balance to hit direct and leave Root with yet another fifty that has not been turned into a hundred.
That instant, that day-defining split second, throws up three separate points of discussion.
The first is how England crumbled from then on, losing four wickets for 27 runs and struggling to the close.
In those situations, it is so important for the batsman at the other end to put what has happened out of his mind. He must dig deep and steady the ship.
The most famous example of that is Geoffrey Boycott running out Derek Randall at Trent Bridge in 1977, then going on to make one of his finest centuries.
Bairstow, though, played a loose stroke to chop on to his own stumps from the bowling off Umesh Yadav. His feet were nowhere.
From there, Jos Buttler missed a straight ball and Ben Stokes somehow got a leading edge when playing on the back foot, both off Ravichandran Ashwin. That left the lower order exposed.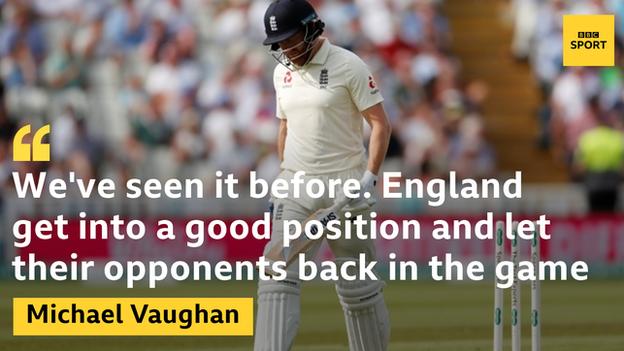 When I say that a collapse is the same old story for England, then another recurring theme is Root's poor conversion rate.
The skipper has now made 11 successive half-centuries without going on to complete a century.
He will be so frustrated, because he will know that by getting to 50 he has done all the hard work. From that point there is no reason why he should not be going on to make the big scores.
Root doesn't seem to play differently after he reaches 50 and Wednesday's was a freakish dismissal, a product of a misjudgement.
But that will not stop the conversation over that unwanted statistic. Yes, it is better for Root to be making 80 than eight, but think of all the Test hundreds he has missed out on.
I spoke before the series of Root's need to stamp his authority on the captaincy and one of the ways he can do that is by scoring big centuries that set up victories. Another opportunity has gone begging.
The third element to all of this - and the part that will probably generate most chatter - is Kohli's reaction.
It is so unusual to see one captain give his opposite number a 'send-off' like that, with Kohli blowing kisses and mimicking Root's 'mic-drop'.
Clearly, Root's celebration at the end of the third one-day international niggled India. Even Root himself said in the aftermath that he instantly regretted it.
As he dragged himself from the crease, he probably wasn't aware of Kohli's antics - but he would have been not long after he returned to the dressing room.
How might England react when Kohli comes into bat? They will not have liked seeing their captain being treated like that.
Sparks might fly in the remainder of what already looks to be a compelling series.
Jonathan Agnew was speaking to BBC Sport's Stephan Shemilt.