England's greatest Test: Which match was voted the best?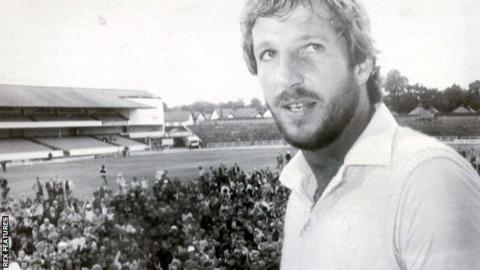 As England prepare to play their 1,000 Test - against India at Edgbaston starting on Wednesday - we gave you the chance to pick their greatest match of all time.
The votes have been cast - almost 40,000 of them - the numbers have been crunched and the results are official.
Here is the top 10, as chosen by BBC Sport readers...
1. England v Australia, Headingley, 1981
England won by 18 runs
England were 135-7 in their second innings, still 92 runs short of making Australia bat again, when Ian Botham was joined at the crease by Graham Dilley.
Botham, replaced as captain after the previous Test, hammered 149 not out as he and Dilley added 117. Bob Willis did the rest, taking 8-43 as Australia were shot out for 111.
England, who at one point were odds of 500-1, became only the second team to win a Test after following on.
Former England captain Michael Vaughan: "I was only young but I remember these characters going out there against all the odds, and Ian Botham started teeing off. He then probably started to look at the scoreboard and think: 'We have got a chance here.' Then Bob Willis was steaming in with his flailing hair and stumps were flying everywhere. I watched that game and I thought I wouldn't mind being a cricketer. I loved it."
2. England v Australia, Edgbaston, 2005
England won by two runs
England's narrowest Test victory in terms of runs and one that turned a thrilling Ashes series.
England scored 407 on the first day, but after slumping to 75-6 in their second innings, needed Andrew Flintoff's hitting to set Australia 282 to win.
Beginning the fourth day on 175-8, Australia somehow chipped away, even after Shane Warne trod on his stumps. With England's hope all but gone, Michael Kasprowicz was adjudged to have gloved behind, leading Flintoff to famously console not-out batsman Brett Lee.
Vaughan: "I didn't watch a DVD or play it back until 2012 because my little boy wanted to see it. When you watch it back you just don't think we are going to win. I always thought we would get a chance, but Simon Jones dropped a catch and I thought that was it. When it comes down to two runs, and they were playing so well, you thought the game was gone. It was brilliant, but I felt the best game of that series was Old Trafford because we only lost one session."
3. England v Australia, Old Trafford, 1956
England won by an innings and 170 runs
Known as the 'Laker Test', following an incredible performance of off-spin by England's Jim Laker.
After his side piled up 459, Laker set about Australia on a spinning pitch - precipitating their collapse from 48-0 to 84 all out in the first innings with an incredible haul of 9-37.
He went one better in Australia's second innings, taking all 10 wickets in the innings for just 53 runs in 51.2 overs - giving him iconic match figures of 19-90.
The win put England 2-1 up in the series, which they closed out with a draw in the decider at The Oval three weeks later.
BBC cricket correspondent Jonathan Agnew: "Jim Laker was banging out 10-fors no problem at all that year. He had a lovely, easy action. After the match, he drove in his car back to Derbyshire and had a pint and a sandwich in the pub and nobody recognised him."
4. England v Australia, Edgbaston, 1981
England won by 29 runs
Just days after his heroics in Leeds, Botham cut down Australia again - this time with the ball.
His spell of five wickets for one run ruined any chance the tourists had of overhauling a fourth-innings target of 151.
Australia had been going well before Botham's intervention - they fell from 87-3 to 121 all out.
A further victory at Old Trafford ensured England would win an Ashes series they so nearly lost.
Vaughan: "I brought the scorebook out and I was scoring in the front room, and it is just what all-rounders do. They have just got something inside them when they find confidence - they demand the ball knowing they will create havoc against the opposition. Ian Botham at his best."
5. Australia v England, Melbourne, 2010
England won by an innings and 157 runs
England will perhaps never have a finer opening day to a Test in Australia.
In front of a packed Boxing Day crowd, they bowled out the hosts for 98 and then raced to 157-0 at the close.
Victory was inevitable once Jonathan Trott hit an unbeaten 168.
It meant England would retain the Ashes, and victory in the final game in Sydney ensured their first series victory down under since 1987.
Vaughan: "That first day in Melbourne has to be up there with one of the best days in the history of English cricket. The Perth performance was so poor that I thought they had blown it. The crowd was full of Australians and you couldn't hear the English - but England bowled first and all of a sudden they got a few quick wickets and there were pockets of St George's flags that started to gather. It was immense to see all of the team celebrating as one."
6. Pakistan v England, Karachi, 2000
England won by six wickets
A series clinched in near darkness on a ground where Pakistan had never lost in 34 previous matches.
A Michael Atherton marathon kept England in touch, before Darren Gough and Ashley Giles bowled the home side out for 158.
England reached their target of 176 with 15 balls of the match remaining, winning a series in Pakistan for the first time in 39 years.
Vaughan: "I used to love playing for Nasser Hussain because he told you how it was. I got sacked for moving the sight screens because I wasn't good enough. Pakistan were changing their angle all the time to try and waste time."
7. England v South Africa, Trent Bridge, 1998
England won by eight wickets
The stage for one of the greatest individual battles between batsman and fast bowler the game has seen.
England were going well in their chase of 247 to draw level in the Test series when Allan Donald opted to bombard England's stoic opener Atherton with some ferocious pace bowling - angered by the batsman's refusal to walk after appearing to glove behind.
Delivering venomous bouncers laced with verbal expletives, Donald threw everything at a stony-faced Atherton.
The pace bowler worked himself into even more of a fury when Atherton's batting partner Nasser Hussain edged behind and young wicketkeeper Mark Boucher dropped the simple chance.
Donald roared his disapproval and England rode out the storm to complete an eight-wicket victory which was made even sweeter by a narrow, series-clinching victory in the fifth Test at Headingley.
Vaughan: "Donald had an immense ability to sniff an opportunity and up his pace by three or four miles per hour. Atherton had a bad back so he couldn't duck and sway and he had to stand up and defend it. They are the moments that I used to think as a young player: 'Could I play against that kind of bowling?' And I must admit I didn't think I could at the time."
8. England v Australia, Trent Bridge, 2015
England won by an innings and 78 runs
The Test in which Australia were bowled out for just 60 on the opening morning thanks to a magical spell of bowling from Stuart Broad.
He took 8-15 as Australia seemingly edged everything they played at to either the keeper or an acrobatic slip cordon.
Joe Root's century ensured no way back for Australia, who were humbled inside three days in a defeat which went down as one of their most embarrassing in history.
Vaughan: "It was one of those mornings when we had to keep asking each other whether this was really happening. Everything that England tried went right, and they completely quashed any hopes Australia had through Stuart Broad on his home ground."
9. England v Australia, Trent Bridge, 2013
England won by 14 runs
The 2013 Ashes series got off to a memorable start when, replying to England's first-innings 215, Australia rallied from 117-9 to 280 all out.
The men responsible for a Test record 10th-wicket partnership were debutant number 11 Ashton Agar, who hit an incredible 98, and the late Phillip Hughes.
The game seesawed towards a captivating conclusion as Australia's tail - superbly shepherded by Brad Haddin - so nearly reached their fourth-innings target of 311.
James Anderson had other ideas, however, and he produced an innocuous-looking delivery which Haddin nicked behind.
England had pulled the game out of the fire and would once again go on to win the series.
Vaughan: "Haddin nearly got Australia over the line that day and he was the difference between the two sides when England went to Australia later that year and Australia won the series."
10. July 2009, England v Australia, Cardiff
Match drawn
James Anderson figures lower down this list for his bowling achievements, but it was with the bat that he is remembered in 2009.
With England battling to save the game on the final day - and with the Australians becoming increasingly fraught - Anderson soaked up 53 balls while number 11 Monty Panesar survived 35 deliveries as the hosts somehow avoided a series-opening defeat.
The result was to prove critical in the wider picture of the series as England went on to win at Lord's and The Oval to complete a 2-1 series win.
Vaughan: "I really enjoy watching Monty Panesar bat because you don't know what is going to happen and it is brilliant drama. Monty looks like a batsman until he takes guard. That was where the series was won."
Which Tests missed out on the top 10?
England v Australia, The Oval, 1882: The Ashes are born.
Australia v England, Adelaide, 1933: The notorious Bodyline Test.
England v West Indies, Lord's, 1963: Colin Cowdrey bats with a broken arm.
England v Australia, Trent Bridge, 2005: Ashley Giles and Matthew Hoggard get England over the line.
England v Australia, The Oval, 2005: England win the Ashes for the first time in 18 years.
India v England, Mumbai, 2012: Kevin Pietersen's majestic 186.
Changed your mind?
Did you miss the vote? Have you changed your mind? Or you liked it so much you just want another go?