England v India: England should pick the best players - Botham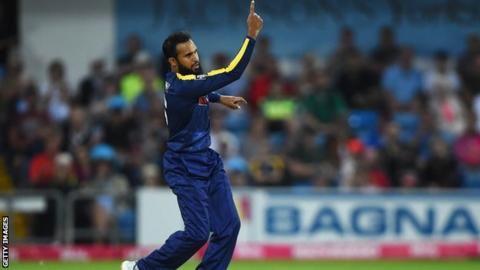 England are right to "cut the bull out" and pick Adil Rashid for the first Test against India, says Sir Ian Botham.
The 30-year-old's inclusion for the Edgbaston Test, which begins on Wednesday, has divided opinion because he is only playing limited-overs cricket for Yorkshire this summer.
Botham, however, supports the decision.
"It is the best conditions for him," said Botham. "The pitches are going to be dry and I am pretty certain he will get purchase out of them."
He added: "I hope he does really well. I like the kid - he is very intense and always wanting to do better with his bowling.
"His bowling has come on leaps and bounds."
Leg-spinner Rashid is a key player in England's limited-overs team but has not played a red-ball match since September having elected to concentrate on the shorter formats.
However, after taking six wickets at an average of 25 in three one-day internationals against India, and taking into account the current dry conditions in the UK, England recalled Rashid for his first Test since 2016.
The move angered Yorkshire, whose chief executive Mark Arthur said the county were "surprised" by Rashid's recall, while the White Rose's director of cricket Martyn Moxon said county clubs are "feeling a little bit like doormats".
"With this case in particular we feel a little bit aggrieved," Moxon said. "Counties have to pick up the consequences of what decisions England make."
Former England captain Michael Vaughan supported his former county's view - suggesting Rashid should have made himself available for the four-day Roses clash against Lancashire last week - but the player has defended his decision to switch his focus in the last year.
Ex-England all-rounder Botham thinks Rashid has done little wrong and suggested some of the blame should be placed at England's door.
"I have seen some ridiculous stuff written, and I am very much on Adil's side," said Botham, 62.
"I find it quite bizarre. Adil wanted to play white-ball cricket, he has bowled exceptionally well and in the last two series he played in Test cricket he bowled very well.
"Then for some reason England messed him around a bit.
"He took the option (to only play white-ball cricket), he has now bowled extremely well, they said 'look, come in for this series, we would like you to play', then I hear later on that they have told him if you don't sign up to a four-day contract for next year you can't play.
"Excuse me, if that is the attitude why is he playing now? They make it difficult for themselves.
"He is now on top of his game, he has come to terms with his game and how he should perform and I am really happy he is back in there.
"England should be playing their best players regardless of white-ball or red-ball contracts. If he is an English-qualified player and he can play - play. Cut all the bull out."