Adil Rashid: England spinner says Michael Vaughan's comments are 'stupid'
By Shamoon Hafez
BBC Sport
Last updated on .From the section Cricket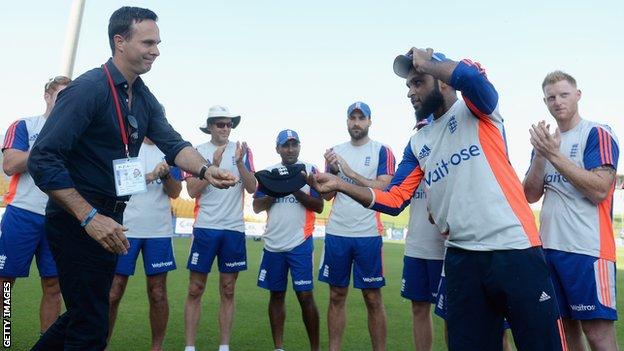 England v India, first Specsavers Test
Venue:
Edgbaston
Date:
1-5 August
Time:
11:00 BST
Coverage:
Ball-by-ball Test Match Special commentary on BBC Radio 5 live sports extra, Radio 4 LW and the BBC Sport website. In-play clips and live text commentary on the BBC Sport website and app.
Full tour details
England leg-spinner Adil Rashid says former captain Michael Vaughan's comments about his recall to the Test squad are "stupid" and "do not matter".
Rashid, 30, was named in a 13-man squad for the first Test against India next week despite signing a white-ball-only contract at Yorkshire.
Vaughan described the decision to select Rashid as "ridiculous".
Rashid told BBC Sport: "He can say a lot and he thinks people might listen, but I don't think they do."
He added: "There has been a lot of hoo-ha.
"I don't see what the big deal is, with people talking about me being retired. I didn't say anything about retirement, which some pundits have said.
"It was not an easy decision, but when your country wants you and asks if you are available, you cannot just say no."
Vaughan responded to Rashid's remarks on social media on Friday.
He posted: "Being called stupid for wanting a player to be professional and play a red-ball game to prepare for the number one Test team in the world is an official career highlight.
"The cricket world has officially gone nuts."
The first match of the five-Test series begins on 1 August at Edgbaston.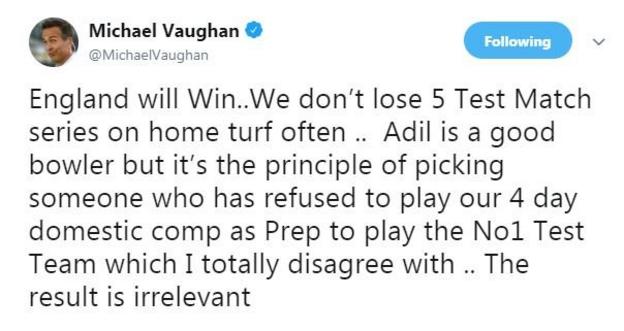 'Vaughan is bored - people have no interest in him'
Rashid has taken 38 wickets at an average of 42.78 in 10 Tests for England, the most recent of which came in India in December 2016.
In February, he signed a contract with Yorkshire to play only limited-overs cricket in 2018. He has not played a first-class match since September 2017.
Writing in the Telegraph, Vaughan called his Test selection a "stab in the back for the county game".
He accused Rashid of being "a bit dozy" and "unprofessional" for not "being bothered" to play for Yorkshire in the Roses match against Lancashire in the County Championship last week.
Rashid said: "His opinions do not matter to anybody.
"When I mentioned at the start of the year I will not be playing red-ball cricket, he tweeted something then. He was being controversial and saying his stupid things then too.
"A lot of people have got no interest in what he says. It is about getting people to like what he says.
"I don't think he has an agenda against me. I played under and with him but sometimes ex-players come out and start talking nonsense about current players.
"If he wants to carry on talking just because he is bored with nothing better to say, then that is his choice.
"There will be people out there who are not happy. There will be haters, like the pundits who are saying it is a disgrace. That is not my fault."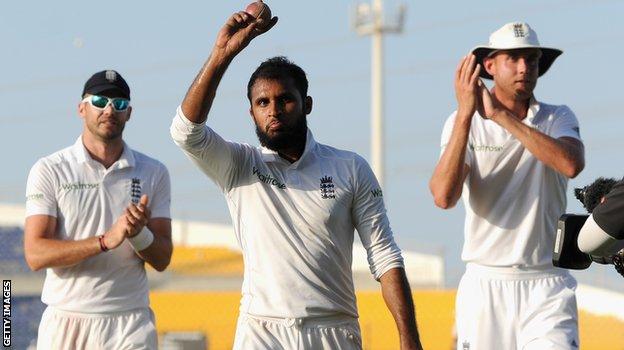 Vaughan said his selection sent out a message that "our county game, the finishing school for our cricketers, does not matter any more and that it is irrelevant".
He added: "I've nothing against Adil. He is a good kid. He is a bit dozy but he is low maintenance and does not cause trouble.
"As a bowler he has done well in white-ball cricket but he has not been successful in Test cricket because he bowls too many bad balls."
Vaughan posted a picture with the comment: "Only place for me to sit for breakfast after being called stupid by Adil Rashid."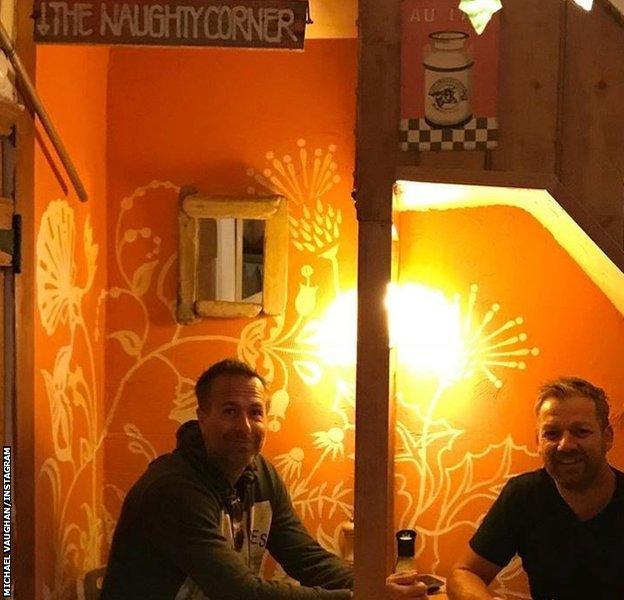 'Yorkshire have not congratulated me'
Rashid has been a key figure in England's rise to the top of the International Cricket Council one-day rankings.
He took 18 wickets at an average of 22.61 to help them beat Australia 5-0 and India 2-1 this summer.
Rashid said after victory over India that he would consider playing Test cricket, despite not being available for Yorkshire for first-class matches.
England national selector Ed Smith said the selection was a "one-off" and that players must play first-class cricket next year to be considered for the Test side.
Yorkshire chief executive Mark Arthur said they were "very surprised" by Rashid's recall, and director of cricket Martyn Moxon said they were "disappointed".
Asked if there was a lack of support from Yorkshire, Rashid said: "At times, there can be.
"They might be disappointed for various reasons, but it would have been nice if the chief executive or head coach could have said, 'well done, congratulations on being selected, good on you' - as opposed to being angry and upset for not playing red-ball cricket for them, even though I told them I would not be doing so.
"I did not do anything wrong in that sense. There is no reason for Yorkshire to react like this. It was not something I expected or wanted.
"It would have been nice to have got the support from your county or the people close to you, but if they do not want to give their support, that is their problem.
"I don't need anybody's support in that situation. I know what I want to do and achieve.
"If I give 100% and it goes well, it goes well. If it doesn't then I will still be happy.
"If they treat me like they have done, don't see any value in me and are disrespectful to me, I have to think about the future in terms of which county I play for."