England v India: 'Hosts have many questions to answer against world's best'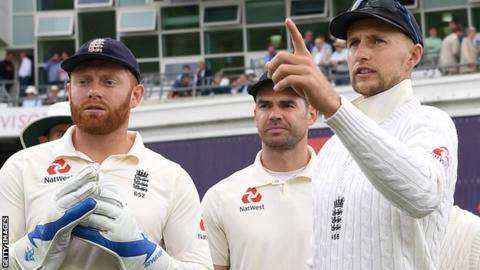 England v India, first Test
Venue: Edgbaston Date: 1-5 August Time: 11:00 BST
Coverage: Ball-by-ball Test Match Special commentary on BBC Radio 5 live sports extra, Radio 4 LW and the BBC Sport website. In-play clips and live text commentary on the BBC Sport website and app. Full tour details
England's five-Test series against India, beginning at Edgbaston on Wednesday, is a mouth-watering prospect and not just because the best team in the world are in town.
For so long, England have been strong at home because the conditions have suited them. Green pitches, cloud cover, the Dukes ball nipping around.
Over the same time period, we have seen them struggle away from home and asked them to improve in sub-continental conditions.
Now, in this hot and dry summer, we thought those conditions had come to England and Joe Root's side would have no choice but to adapt.
However, initial observations of Edgbaston leave us not so certain.
The groundsman told me on Monday that they have been putting thousands and thousands of litres of water onto the outfield each night in order to prevent the moisture from draining away.
Come the first morning, there may be some dampness present. Not so foreign to England after all.
That may not be the case in all of the venues we visit, though. Lord's, where the second Test will be played, could be exceptionally dry. It was only a year ago that Moeen Ali was spinning England to victory against South Africa there.
Therefore, there's a strong chance some of the cricket in this series will be played in a sub-continental style: batsmen going big, bowlers having to work hard to remove them, spin to the fore. Proper Tests that last the whole five days.
In ordinary English conditions, the home side will be favourites. If it is dry and dusty, that brings India right back into it. It is difficult to predict and that is what makes it such a fascinating prospect.
If England do find that their home advantage is negated, there is an argument to suggest that particular cloud has something of a silver lining.
That is because we want them to develop into a side that can do well away from home. They have slowly slipped down the Test rankings, mainly because of their travel sickness.
This winter, they face series in Sri Lanka and West Indies, where we know spin is likely to play a very big part. This home summer should prepare them for that.
The two sides look evenly matched and there are a great number of imponderables.
Can Alastair Cook and Keaton Jennings finally give England a long-term opening partnership? Is it going to work out for Root at number three? Will we see the Dawid Malan that made that wonderful Ashes century in Perth?
If the conditions are hard, abrasive and dry, can England find some reverse swing? When I put that question to James Anderson during the limited-overs matches, his answer was an emphatic 'yes'. If Edgbaston and other grounds are given a dousing with the hose pipes, that possibility might drain away.
In the short term, the biggest unknown for the England team surrounds Ben Stokes.
His trial for affray begins the day after the first Test is due to finish and will rule him out of the second match at Lord's.
There is a scenario whereby Stokes could be trying to win or save the Test for England on the Sunday, then appearing in court on the Monday. When I asked national selector Ed Smith if Stokes could be distracted, Smith told me he had no concerns.
Longer term, England have to show in this series that they are improving, that they can be consistent.
We know their Test record under Trevor Bayliss is mixed and in recent home series they have had a habit of losing one match by a big margin.
Regardless of results, Bayliss will be gone by the end of next summer, so perhaps this series is more important for skipper Root.
So far, in his year or so in the job, Root is yet to stamp his full authority on the captaincy. What better way to do that than by beating the world number ones and getting a stack of runs yourself? He made back-to-back centuries in the one-day series, which is a good place to start.
Looking at India, you cannot help but think so much rests on Root's opposite number, Virat Kohli.
Four years ago, when India lost the series 3-1, Kohli did not make an impression with the bat. In fact, he cut rather a distracted figure.
Now, he wants to prove he is the best batsman in the world. To do so, he has to score big runs in England, his final frontier. If he does that, then maybe India are nudging towards the favourites' tag.
Usually, we would worry that India might come undone by the ball zipping around on fresh pitches. There is a chance that obstacle will be removed, but they still have questions at the top of the order. Opener Shikhar Dhawan managed to face just four deliveries in bagging a pair in their only warm-up game against Essex.
And will they throw young left-arm wrist spinner Kuldeep Yadav into the team after he impressed so much in the one-dayers?
I hope so, because Test cricket needs that element of mystery. If Kuldeep does play, he will find the longer format is so much different to the white-ball game. That goes for Adil Rashid, too.
If the limited-overs matches are anything to go by, these five Tests will be played in front of colourful, noisy crowds. We should expect quite an atmosphere.
Yes, I've had my grumbles about the matches being crammed into a six-week period - a schedule that will take its toll on the players - but the relentless nature of the series should be brilliant for the spectators. The drama will come thick and fast.
The first Test at Edgbaston will be the 1,000th that England have played.
From the previous 999, of which I've seen more than 300, my favourite is still the 2005 Ashes match played on that ground, one that was beaten into second place by Headingley 1981 when users of the BBC Sport website had their say.
The thing about a Test is that there is always a story, a subplot. It could even be nothing to do with the 22 players who took part. It could be a coach, an official, a broadcaster or something going on in the world at that time.
I confess I'm not great at remembering scores, but often you will look up or think of a match and say: "Yes, that's when so-and-so did this or that."
The subplot this week is that of Rashid and the fuss that has gone with his selection. There will be more twists and turns for us to get our teeth into over the course of the series.
Let's hope it lives up to our high expectations.
Jonathan Agnew was speaking to BBC Sport's Stephan Shemilt.