Charlotte Edwards: 100-ball format 'a massive opportunity' for women's game
Last updated on .From the section Women's Cricket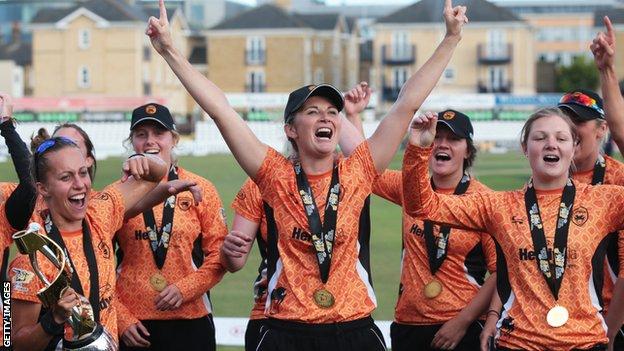 Former England captain Charlotte Edwards thinks the proposed new 100-ball competition will benefit the growth of the women's game.
The Kia Super League, the current six-team domestic T20 tournament for women, is due to be scrapped in 2020 when the new format is introduced.
Women's and men's franchises will run in tandem in the city-based tournament.
"Players and people involved in the women's game see the 100-ball as a massive opportunity," she said.
Talking to BBC Sport, the 38-year-old added: "It is an incredible opportunity to align teams and get the same type of impact that the WBBL and the Big Bash have had in Australia.
"I've been part of that and I get how those decisions need to be made and how important it is to have that identity."
The 100-ball format has received mixed reaction from players and fans since it was proposed by the England & Wales Cricket Board in April.
Southampton's Ageas Bowl, currently home to KSL team Southern Vipers, is one of eight grounds which will host a team in the new tournament.
The third season of the KSL, which features an expanded group stage, starts on Sunday and Edwards, now director of women's cricket at Hampshire, admits that shelving that competition in favour of the 100-ball format is a double-edged sword.
"On the one hand, it's really disappointing as this tournament has done so much for the women's game in this country in a short amount of time," said Edwards.
"Everyone who's played in the Kia Super League has thoroughly enjoyed it and developed, and it's hard for the teams who aren't attached to one of those 100-ball franchises.
"We're lucky here because we've had a Super League team and we're also going to get a 100-ball team. I think they'll be quite a smooth transition."