Ireland v Afghanistan: 'Series ideal preparation for World T20 qualifiers'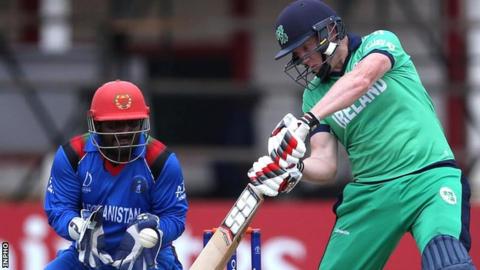 Ireland coach Graham Ford says next month's matches against Afghanistan will be perfect preparation for the World Twenty20 qualifiers.
The Irish will go into the Bready and Stormont games after being humbled by India in two T20s last week.
"We were outplayed by a world-class opposition but our horizon in the short form of the game is the World T20 qualifiers in 2019," said Ford.
"This series is ideal as it gives us a good level of competitive cricket."
Ireland begin a three-match T20 series against Afghanistan on 20 August, before a three-match one-day series starts on 27 August.
Afghanistan defeated Ireland by five wickets in March in a winner-takes-all Super Sixes game for a place at the World Cup.
Since then the two sides have played their inaugural Tests and are set to meet for the first time in the five-day arena in February next year.
Ford added: "The recent tri-series in the Netherlands was a learning experience and opportunity to experiment with the side, while the Indian series was a chance to pit our guys against the world's best and give them a taste of what we need to aspire to.
"While I will be looking for lessons learned to be demonstrated on the pitch, we will maintain our ongoing approach of providing opportunities for a wider pool of players to gain experience in international white-ball cricket during this series.
"We need to build a competitive squad for that World T20 qualification stage and hopefully to propel us into the main tournament in Australia in 2020."