Rob Keogh: Northamptonshire all-rounder snaps tendon in finger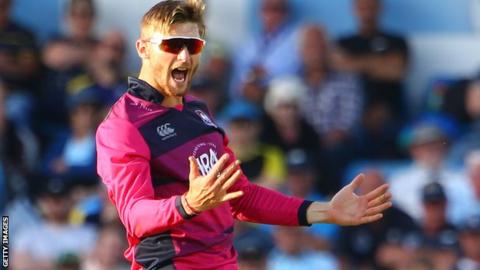 Northamptonshire all-rounder Rob Keogh has snapped a tendon in his finger and is likely to be out for the rest of the 2018 county season.
The 26-year-old will be required to wear a hand splint for 12 weeks, ruling him out of the T20 Blast competition.
"The splint will keep the finger still, because if it bends in the first eight weeks, the process will have to start again," Keogh told Northants' website.
"It will then need to go into another cast for a further four weeks."
Keogh has played three Championship games and five One-Day Cup fixtures this summer.
Head coach David Ripley said: "I feel for Rob because his season hasn't really got going with injury through the pre-season period, and now another injury that's ended his campaign.
"We will certainly miss his all-round contributions in both the T20 and Championship cricket, but we're sure he'll make a full recovery."