Cricket collapse: Peterborough Town take seven High Wycombe wickets in 11 balls
Last updated on .From the section Cricket107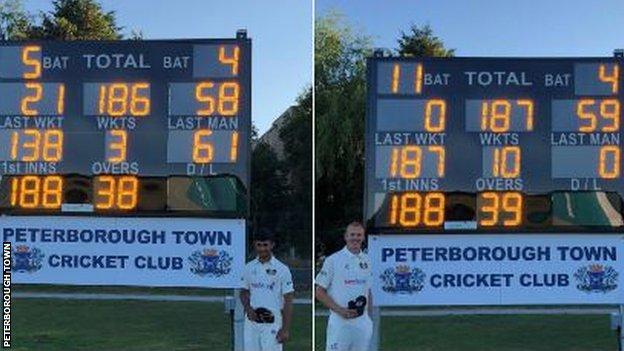 Surreal. Incredible. Embarrassing. Some of the descriptions for a remarkable cricket turnaround.
Needing just three runs to win off the final two overs, at 186-3, High Wycombe were easing to victory and the last 16 of the National Club Championship.
But a spectacular collapse ensued - all out for 187, losing seven wickets in 11 balls to opponents Peterborough Town.
A four-wicket maiden was followed by three more dismissals in the final over, courtesy of the sixth-choice bowler, an off-spinner aged 16.
"It was quite incredible. It didn't really sink in for a while. All the lads couldn't really believe it," winning Peterborough captain David Clarke, 29, told BBC Sport.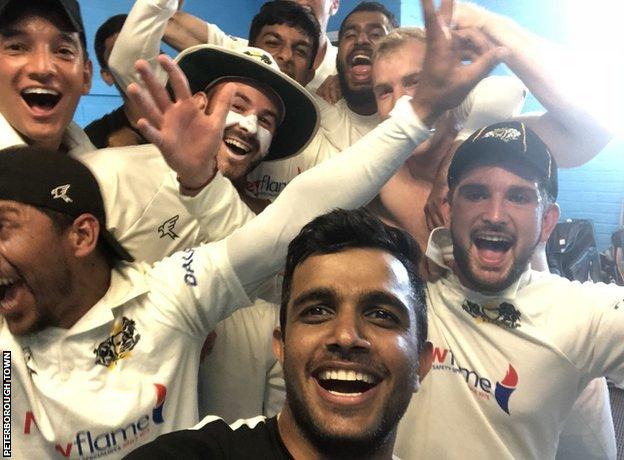 Seamer Kieran Jones, brought in from the second XI because several first-team players were unavailable, claimed four scalps in four balls from the start of the penultimate over before teenager Danyaal Malik took the final three wickets for the home side.
"It was just surreal to be honest. It was a great feeling," said Malik of victory in the tier below minor counties cricket.
Beaten skipper Nathan Hawkes, who ran a single in the final over, was left bemused, unbeaten on 59 as seven of his side were out for ducks.
"I'd battled through and thought I got ourselves into a winning position. I was just watching wickets fall at the other end. I've not seen or heard of anything like that in that standard of cricket," he said.
"Needing three runs off 12 balls with seven wickets in hand, you ought to be able to get that. It was bizarre. There was some uneven bounce and a bit of turn, but from my point of view, it was a little bit embarrassing."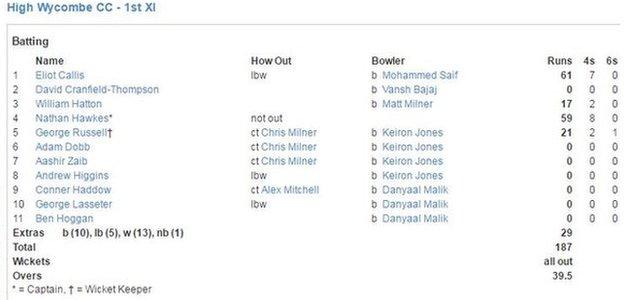 Fall of wickets: 1-1, 40-2, 138-3, 186-4, 186-5, 186-6, 186-7, 187-8, 187-9, 187-10
'No hard feelings'
With two overs to go, and victory seemingly in the bag, some of High Wycombe's lower order were not expecting to feature.
"We were just playing the game out. A lot of their side had packed their kit up and were ready for the two-hour drive home," said Clarke.
"I don't think anyone could have expected what happened in the end. The guys coming in at nine, 10 and 11 were rushing around to get their pads on. I don't think they were ready mentally when they came in.
"Danny was thrown the ball and he kept his nerve. There was fantastic euphoria for us. It's nice to reflect on a victory from the jaws of defeat.
"There's been some comparisons to golf's 'Miracle of Medinah' or England's comeback in the Ashes at Headingley in 1981."

Malik, who is known for his batting and made 53 in Peterborough's innings, had gone for seven in an earlier over but has been working on his bowling with Northamptonshire academy director Kevin Innes.
"I'd thought they would make it comfortably - they were cruising along until the last two overs," said Malik, who finished with figures of 3-8.
"I think our other bowlers had bowled their maximum amount and when Clarkey gave me the ball, I did believe there was a chance to win.
"Hopefully I get to bowl at bit more often because I think it has improved."
In the true spirit of cricket, High Wycombe's defeated players stayed behind afterwards as Peterborough celebrated.
"They hosted us well and brought drinks into the changing room," said Hawkes, whose side had reached the competition's quarter-finals in the previous two years.
"There was no hard feelings. We wished them all the best. Fair play to them - they never gave up. We go back to the drawing board and our eyes are on the league now."
Meanwhile after his quadruple wicket-maiden, Jones may have played his way into Peterborough's first XI for the next round.
"Kieran came in for this one game. We could have our top players back by then, but there's every chance he could play," said Clarke.