Ireland to face England in Test in 2019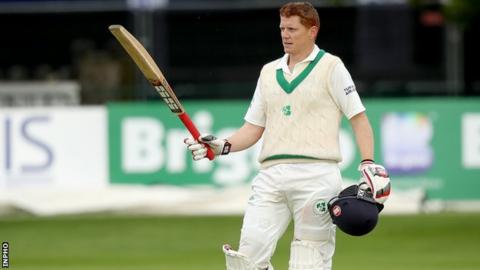 Test match newcomers Ireland will take on Afghanistan and England in the five-day format next year.
Last month Ireland played their first men's Test match having been granted full ICC membership in June 2017.
As part of the ICC's Future Tours Programme (FTP) 2018-2023 Ireland are scheduled to play 12 Tests along with 62 one-day internationals and 65 T20 games.
Cricket Ireland intend to add further fixtures to the proposed schedule.
Afghanistan were also given Test status last year as they and Ireland became the 11th and 12th full members of the ICC.
The two sides are scheduled to meet in four Tests between 2019 and 2022.
The time, date and schedule of next year's Test against England are still to be advised.
Kevin O'Brien's second innings century was undoubtedly the highlights for the hosts during their historic match against Pakistan.
The programme covers all three formats of the game.
Ireland are scheduled to face 10 of the 11 full member nations in varying formats, with Australia the only side not currently featuring on their schedule.
Chief Executive of Cricket Ireland Warren Deutrom welcomed the release of the FTP.
"From the moment we were granted full membership of the ICC, two of the key priorities for Cricket Ireland were to play our first Test match and to negotiate a multi-format fixture schedule as part of the FTP." He said.
"We have now delivered both and we believe the players and fans of Irish cricket will be excited by the comprehensive programme ahead."
Ireland's upcoming Tests
2019
Afghanistan
England
2020
Sri Lanka
Afghanistan
Zimbabwe
Bangladesh
2021
Afghanistan
Zimbabwe
2022
Zimbabwe
New Zealand
Afghanistan
Bangladesh