Worcestershire: Brett D'Oliveira appointed as captain for three Championship games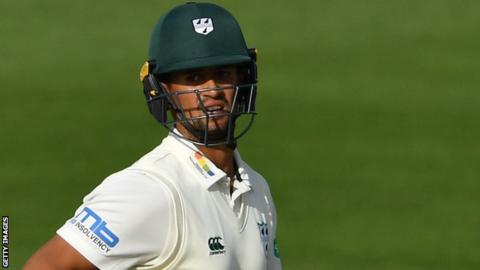 Worcestershire have appointed all-rounder Brett D'Oliveira as captain for their next three County Championship Division One games.
Following the loss of county captain Joe Leach for the rest of the season with a stress fracture of the back, Australian Callum Ferguson captained in Sunday's One-Day Cup semi-final.
But Wednesday's Championship game marks New Zealander Martin Guptill's arrival.
And the Pears have opted to hand the reins to D'Oliveira in the short term.
"Initially, the appointment will be for three Championship games," said head coach Kevin Sharp. "Then we need to assess where players are and what they are doing.
"Brett will be honoured and privileged by this and I'm sure he will do a very good job for us. It could have been two or three players but he is a lad who is really maturing in terms of character and is highly respected within the dressing room.
"We wanted to keep the Championship captaincy amongst our own, the lads who have grown up within the club and that's what we are going to do for this next block of games."
The England Lions spinner, 26, is the son of academy boss Damian and grandson of Worcestershire and England legend Basil.
Wednesday's home game with with Lancashire for the bottom-of-the-table Pears is followed by a trip to Trent Bridge to face Nottinghamshire (25-28 June) and the home fixture with Somerset (22-25 July).
First pro deals for Haynes and Dell
Worcestershire have awarded professional contracts to two of their most promising young academy players, 17-year-old Jack Haynes and 20-year-old batsman Josh Dell.
Worcester-born Malvern College pupil Haynes - the son of former Worcestershire all-rounder Gavin Haynes - has signed until the end of the 2020 campaign.
Haynes, who was part of the county squad for the pre-season trip to Abu Dhabi, will complete his studies next year before joining the staff full time,
Dell, from Tenbury Wells, who played for England at under-19 level, is now signed up until the end of the 2019 season.
Worcestershire Academy coach Elliot Wilson said: "It has been really pleasing to see a player with such prodigious talent as Jack develop. It can be easy to lose your way but he has kept ahead of the game and that is credit to Jack and also to Gavin .
"Josh stalled around the time he was selected for the under-19s. But since he has got back from playing in Australia this winter, he has stepped up, been outstanding and back to the cricketer we saw as a 16 to 17-year-old."