Tim Paine: Australia 'won't be silent' in England ODI series
Last updated on .From the section Cricket276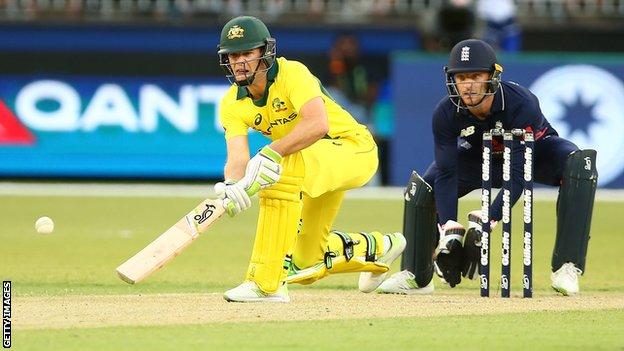 Australia "won't be silent" on the pitch in their five-match one-day international series in England, says captain Tim Paine.
It will be Australia's first series since the ball-tampering scandal in March against South Africa.
Captain Steve Smith and vice-skipper David Warner were banned for a year and Cameron Bancroft, who rubbed the ball with sandpaper, given a nine-month ban.
Paine said his side will "pressure" the opposition "as we usually do".
"The thing we have spoken about is the difference between abuse and banter," said Paine, who was installed as captain to replace Smith. "I am sure you are going to hear us talking through the stump mic.
"There is no doubt our reputation took a bit of a battering. That was difficult for the players to come to terms with."
Australia also named former opener Justin Langer as their new head coach, replacing Darren Lehmann, who resigned in the wake of the ball-tampering scandal.
Langer has appointed former captain Ricky Ponting to the team's backroom staff for the ODI series on England, which starts on 13 June at the Oval.
Australia have been criticised in the past for their aggressive approach on the pitch and Langer says his side should not cross the line.
"We will still be called sledging Australians, it has been happening for the last 30 years," he said. "So we will cope with that.
"We have our values and our expectations, that is really important. We are really very clear on what our values, behaviours and expectations are.
"But I have said this for 25 years, we can have the fanciest mission statements, but if you don't live them, they are like toilet paper. They are written down, but unless you live them they are meaningless.
"We have just got to create the environment where it is a great changing room. All culture is behaviour. Make it good on and off the field. If we have got good behaviours, then we have got a good environment."