Michael Vaughan: Four-day Tests worth a try to rejuvenate format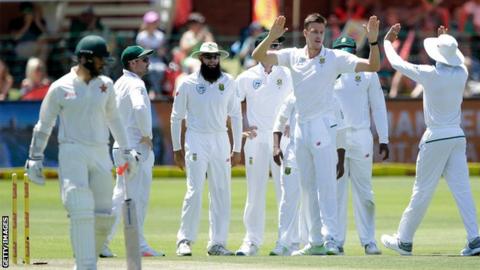 Shortening Tests from five days to four is "worth a try" to "rejuvenate" the format, says former England captain Michael Vaughan.
England are close to an agreement to play a four-day Test against Ireland at Lord's next summer before the Ashes.
The International Cricket Council approved a trial of four-day Tests in October, up until the 2019 World Cup.
"I love five-day cricket but it's worth trying, anything to rejuvenate Test match cricket," said Vaughan.
England were beaten by Pakistan early on day four of the first Test at Lord's before the hosts secured victory by an innings and 55 runs inside three days in the second Test at Headingley to draw the series.
"Early in the season in England, when we pretty much know the wickets are going to be quite juicy, I'd be trialling four-day Tests," Vaughan said on The Tuffers and Vaughan Cricket Show.
"I just want to see how it would work. It might be a disaster and I wouldn't want to see it every single week, but we certainly need to try it."
Vaughan suggested four-day Tests should consist of 96 overs per day - six more than usual.
South Africa thrashed Zimbabwe inside two days in the inaugural four-day Test in December, a day-night game in which each day's play was scheduled to last six and a half hours - 30 minutes more than in five-day Tests - with 98 overs to be bowled each day.
"There has to be a way of getting those overs in. You can't just allow the game to meander along like it is now," Vaughan added.
"Maybe the game might have to give up a little bit of the sponsorship and commerciality around drinks breaks, to quicken up the process."
Vaughan said it would be "simpler" for fans to understand if Tests were scheduled to always start on a Thursday and end on a Sunday.
He said the introduction of the World Test Championship will give captains the incentive to be "creative" to try to force positive results if four-day Tests are shortened by rain.
The new competition, which starts with the 2019 Ashes against Australia, will see nine teams play six series of Tests over a two-year period - three at home and three away - before the two teams with the most points contest the final in England in June 2021.
The ICC has proposed points will only be awarded for each match and not a series win to ensure every Test counts, while a draw will see each side only awarded a third of the yet-to-be determined points total for a win.
"Test match cricket has been on the decline for many years. That's been a worldwide problem, although not particularly here in the UK, but give it a try and see how it goes," said Vaughan.
"People said day-night Tests would be ridiculous, that they would finish in two days, but they've been a great spectacle and worked in the right parts of the world."
There have been nine men's and one women's day-night Tests, since the inaugural match between New Zealand and Australia at Adelaide in 2015.