England cricket quiz: Can you name England's Test wicket takers from 2015-2018?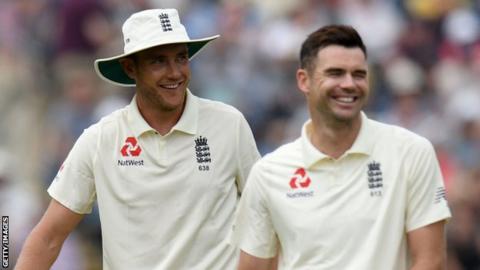 England ended a run of eight Tests without a win by beating Pakistan in the second Test.
However, England's inconsistency remains a problem and is the subject of Simon Hughes' latest column for BBC Sport.
In the column, Hughes suggests one of the reasons for England's indifferent results is a lack of quality back-up for James Anderson and Stuart Broad, who have 540 and 417 Test wickets respectively.
"In the last three years Jimmy Anderson has taken 137 Test wickets at under 21 and Stuart Broad has backed him up well with 130 wickets at 27," writes Hughes. "But they have not had consistent support.
"In the recent Ashes in Australia, for instance, Anderson took 17 wickets at 27, while the other bowlers' combined average was in excess of 50.
"To win Test matches you have to take 20 wickets. That requires both potency and constant pressure."
That got us thinking - who else has taken England's wickets in the last three years? Take our quiz to see if you can remember all 21 names (Broad and Anderson have not been included in this quiz).
It's trickier than you might expect. Your three minutes starts... now!