Why are England so inconsistent in Test cricket?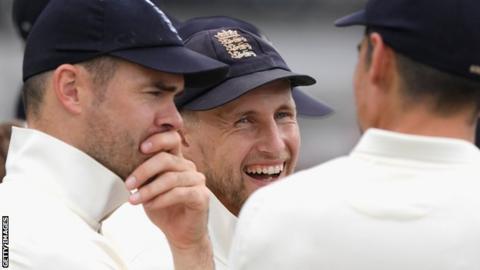 There was relief rather than satisfaction etched on the faces of the England coaching staff after the Headingley victory, their first Test win since September last year.
That is partly because they have grown used to the wild fluctuations in England's Test performances.
In the past three years - a span of 42 matches - England have only once won three Tests in a row. There is always a defeat looming around the corner.
The old saying about Pakistan that you never know which team is going to turn up applies now as much to Joe Root's side.
Why are England, with more professional players and resources than any other country, so inconsistent and languishing in fifth spot - just above Sri Lanka - in the International Cricket Council's Test rankings?
If you look at the most successful Test teams of all time - West Indies (1980-1995) and Australia (1995-2004) - their success was founded on outstanding opening pairs, and a combination of penetrative and restrictive bowlers.
West Indies' Desmond Haynes and Gordon Greenidge are the most prolific opening partnership in Test history (6,482 runs together at an average of 47) followed by Australia's Matthew Hayden and Justin Langer (5,655 runs, average 51).
They provided a solid foundation on which the rest of the structure could be built.
Since the retirement of Andrew Strauss in 2012, England's foundations have been decidedly rickety.
Alastair Cook - England's leading Test run-scorer of all time - has had 12 different opening partners in that time, and none - apart from Root himself, who averaged 41 as an opener - can be considered a success.
Cook's recent 11-Test opening partnership with Mark Stoneman averaged just 16 runs per outing.
England's most successful recent periods - 2003-2005 and 2008-2011 - coincided with two of their most reliable opening pairs: Marcus Trescothick and Andrew Strauss (who averaged 52 in partnership) and Strauss and Cook, whose 4,711 runs (at 41 per partnership) is the third all-time highest aggregate behind Greenidge and Haynes and Hayden and Langer.
You cannot underestimate the value of good opening partnerships. It blunts the opposition's main cutting edge - the new ball - and gives the rest of the batting order breathing space.
Batting is much easier against a ball that is 20 overs old and has lost its initial hardness. But because of England's shaky opening pairs they are frequently 80-4 and having to rebuild.
Good opening pairs also pave the way for individual hundreds, which give a team vital ballast. England averaged 1.21 hundreds a Test between 2006 and 2010 (when Strauss and Cook opened and England won the Ashes home and away).
In the past three years they have averaged only 0.72 hundreds per Test.
Helpful pitches and an array of accurate medium-pacers in County Championship cricket mean few openers have been able to score significant amounts of runs to make an indisputable claim for England selection.
Stoneman did - 1,156 runs last season - but his overall first-class average of 35 suggested he might not be up to the sterner challenges of Test cricket and that proved to be the case.
There is no guarantee the recalled Keaton Jennings, with a first-class average of 34, will be a long-term success either.
There are few genuine quick bowlers in county cricket to really examine aspiring Test openers. There were plenty around the counties in the 1980s and 90s and England's best openers of the past 30 years - Graham Gooch, Michael Atherton, Alec Stewart, Cook, Trescothick and Strauss - all had first-class averages in excess of 40.
They had proved their ability against top-class fast bowling in county cricket so the step up to Tests wasn't as steep.
Then there's the bowling.
The most successful Test teams have a bowling attack which combines extreme penetration with a high degree of accuracy and no weak links. The great West Indies sides of the 1980s always fielded a fearsome, four-pronged pace attack with one or two bowlers taking their wickets at under 21 (Joel Garner, Malcolm Marshall, Curtly Ambrose) and the others yielding less than three runs an over.
The formula for Australia was similar except they had three high-class fast bowlers - led by Glenn McGrath - and the brilliant Shane Warne, who not only took 708 Test wickets but also conceded just 2.65 runs an over. With both these teams if they couldn't knock you out, they'd bore you out.
England's best recent period (2005-2011) was when they also fielded a highly efficient four-man attack - three/four seam bowlers and a very accurate spinner - first Ashley Giles, then Graeme Swann.
In the past three years James Anderson has taken 137 Test wickets at under 21 apiece and Stuart Broad has backed him up well with 130 wickets at 27. But they have not had consistent support.
In the recent Ashes in Australia, for instance, Anderson took 17 wickets at 27 while the other bowlers' combined average was in excess of 50.
To win Tests you have to take 20 wickets. That requires both potency and constant pressure.
Until the victory at Headingley, England had failed to take all 20 wickets for eight consecutive Tests. Unless Anderson or Broad are bowling, England have little control in the field.
The absence of a reliable spinner to give the pace bowlers breathing space so they can rotate from one end - and exploit a wearing pitch later in the match - has been keenly felt.
Moeen Ali has taken 133 wickets in his Test career but at an average of 40.68 while conceding 3.63 runs an over. This is in the decision review system era, when good spinners are doubly effective as they win many more lbws than they used to.
Graeme Swann took 28% of his Test wickets lbw. England's most successful spinner of all time, Derek Underwood, took only 8% of his Test wickets lbw.
So opening pairs and tight, penetrative bowling attacks are the keys to consistency. England's best teams of recent years also had at least half a dozen players at the height of their careers - Cook, Strauss, Jonathan Trott, Kevin Pietersen, Matt Prior, Swann, Broad and Anderson.
Looking at England's current team, you could say that only two - Root and Jonny Bairstow - are absolutely at their peak, although if Ben Stokes is fully fit they have a third. It is largely a mix of ageing warriors and young pretenders. The inconsistency will continue.
And coach Trevor Bayliss' view - that the only thing he really worries about is whether he is going to wake up in the morning - is eminently sensible. Otherwise he'd be in rehab by now.
Other than James Anderson and Stuart Broad, how many of England's Test wicket-takers since 1 January 2015 can you name?