Scotland v England: Hosts need more high-profile wins - Ali Evans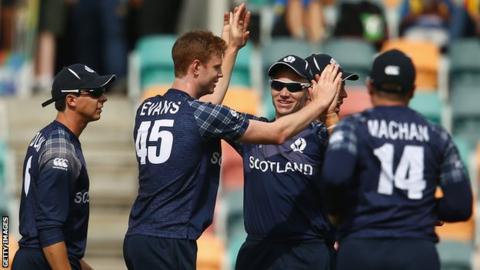 Scotland take confidence from their painful near-miss at the World Cup Qualifier as they seek a first win against England, says bowler Ali Evans.
England visit Edinburgh on 10 June for a one-day international.
"England are sending a strong squad and that's really exciting for us," Evans, 29, told BBC Scotland.
"If we put on a performance on the park we don't think it matters what team they put out, we think we can give them a real run for their money."
Scotland recorded their first ODI win over a Test nation as they beat Zimbabwe last June and drew with the same opponents in March's Qualifier only to be denied a place at next year's World Cup after an agonising rain-affected defeat to West Indies by in their final game.
The Scots also beat Afghanistan at the Qualifier, while there was a win against Sri Lanka in a match not classified as an official ODI three weeks prior to the success against Zimbabwe in Edinburgh.
England, who are warming up for six limited-overs home matches against Australia, were last in Scotland in 2014, winning a rain-affected match in Aberdeen by 39 runs.
The teams met at the World Cup in 2015, with England winning by 119 runs in Christchurch, New Zealand.
"We don't necessarily see it as David v Goliath," said former Derbyshire player Evans. "We just see it as two talented teams, and we respect them greatly, going up against each other.
"The last time, at the World Cup, there was a time when we were chasing and were very much in the game.
"Okay, things didn't go our way that day but I don't think anyone watching would have been surprised if we'd got across the line.
"If we play to the best of our ability and we back ourselves, there's absolutely no reason why we won't come out on top.
"England have lost to so-called smaller nations before. They've lost to the Irish and the Dutch. These are not unheard of circumstances."
'Still a few sleepless nights'
West Indies and Afghanistan took the two available places from this year's World Cup Qualifier, with next summer's tournament in England and Wales cut from 14 to 10 teams, much to the frustration of Associate nations.
"We still think it's an absolute travesty that despite beating Afghanistan, drawing with Zimbabwe and on the road to beating the West Indies, that we're being knocked back, having not done a huge amount wrong," said Evans.
"There are still a few sleepless nights for some of the guys, with the manner in which it all came about.
"I was fortunate enough to play at the 2015 World Cup and it was a wonderful experience.
"Our biggest issue is that every time we miss out we give the ICC a reason to visit Associate cricket and our position in that.
"Those who followed the [Qualifier] tournament saw the tremendous ability and tremendous brand of cricket that not only ourselves but the entire Associate nations brought to that."
The Scots are ranked 13th on the ODI rankings list, with England number one.
As they chase the ultimate goal of Test status, the underdogs need to take some more major scalps to help raise the profile of the sport, said Evans, who will hope to make his 31st ODI appearance at The Grange next Sunday.
"In the last decade we've gone from [former captain] Ryan Watson getting one of the first contracts to having 11 guys on central contracts and that is a step forward," added Evans.
"Yes, we are always going to be hamstrung money-wise but, as players on the field, we need to be more consistent.
"We have to be winning more high-profile games of cricket.
"The more games like this that we win, the more we move up the rankings, the more businesses will show interest. That's just the way of the world."