Inter-Provincial Championship: Lightning punish declaration by Knights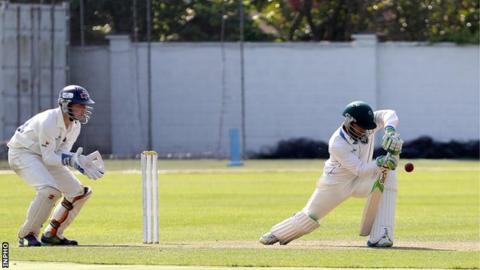 Leinster Lightning earned a dramatic five-wicket win over Northern Knights with 12 balls to spare in the Three Day Inter-Provincial Championship.
At close of play on day two a draw seemed the most likely result but the Knights chose to declare on 272-5 to give the visitors a shot at victory.
An unbeaten century by John Anderson helped Lightning past their target with two overs remaining at Comber.
The two teams will meet again on Monday in the Inter-Provincial 50 Series.
The Knights bowled tightly to restrict Leinster to a first innings total of 268, which left them with a narrow five-run lead, and began the final day on 83-1.
James McCollum (84) and James Shannon (66) helped the home side to build a lead of 267 runs in excellent conditions before deciding to declare.
The holders pounced on the opportunity presented to them as Anderson struck an unbeaten 123 and was ably assisted by Jack Tector (70) and Lorcan Tucker (42) as they cruised to victory.
Northern Knights (first innings):263 J McCollum 87, S Getkate 70, P Chase 3-38, J Barnes 3-46; (second innings): 272 for five (62 overs) J McCollum 84, J Shannon 66, S Singh 3-39, P Chase 2-26.
Leinster Lightning (first innings): 268 J Anderson 66, S Singh 56, J C Dow 3-64; (second innings): 269 for five (59 overs) J Anderson 123 no, J Tector 70, L Tucker 42
Leinster Lightning won by five wickets.