Alex Hales: England batsman will consider red-ball cricket return after 2019 World Cup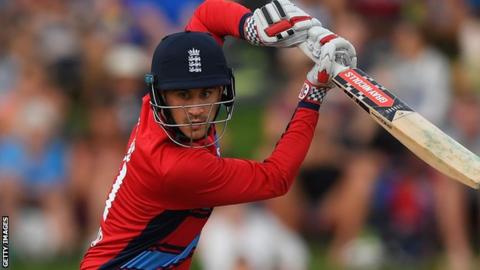 England batsman Alex Hales says he will assess whether to return to red-ball cricket after the 2019 World Cup.
In February, the 29-year-old signed a deal with Notts to only play limited-overs games until 2019, in a bid to cement his spot in the England team.
"I'm certainly not turning my back on four-day cricket," he said.
"For 18 months I wanted to dedicate all my practice and all my energy to getting as good as I can at white-ball cricket just for the World Cup."
He told BBC Radio Nottingham: "With the busy schedule - you've got the tournaments around the world, the tours with England, the series in the summer and the T20 Blast.
"There's so much cricket now I just want to dedicate every resource of energy and all my practise to trying to get as good as I can at white-ball cricket and cementing that spot for the World Cup.
WATCH: Alex Hales fired up and keen to impress
'I just want to give myself the best possible chance'
Opening batsman Hales has just returned from India, where he helped Sunrisers Hyderabad reach the final of the IPL, although he did not feature in the final.
He has also been included in England's squads for their one-day games against Scotland and Australia next month.
Hales was part of the Notts side that dominated domestic limited-overs cricket in 2017, winning both the T20 Blast and the One-Day Cup.
The latter triumph was inspired by his brilliant innings of 187, the highest individual score in a Lord's one-day final.
As well as his 434 runs at 72.33 in the 50-over competition, he made another 507 runs at 33.80 for Notts last season in 20-over cricket - and was then part of the England side that beat Australia 4-1 in the One-Day International series against Australia in January.
"Your dream as a kid is to represent your country in a World Cup," he said.
"The standard of team we've got at the moment is probably as good as it's ever been in the history of English cricket in terms of 50-over cricket.
"I just want to give myself the best possible chance of being in the starting XI come next year.
"I'm on the fringes. Jonny Bairstow's come in and done fantastically well and Jason Roy's one of the most talented cricketers I've ever played with.
"For me, when there's three guys who are vying for two spots, I just want to give myself the best chance to try to have that spot when it comes to this time next year.
"The energy and enthusiasm I've now got turning up to practise and all the matches involving white-ball cricket is the most I've ever had in my career."