England's World Cup champions win prize at Women's Sport Trust awards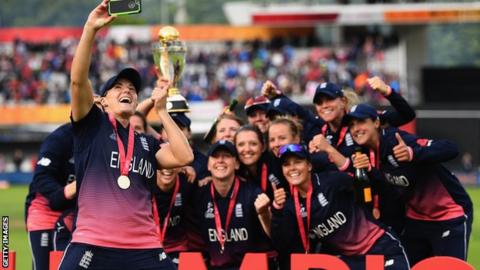 England's World Cup-winning cricket team were among the victors at the 2018 Women's Sport Trust #BeAGameChanger Awards.
The annual ceremony celebrates those instrumental in driving forward the profile of women's sport.
England beat India in front of a record-breaking crowd at Lord's in July 2017, and were presented with the sporting role model team award.
Professional boxer Stacey Copeland won the individual role model award.
Copeland played football for Doncaster Rovers Belles and England Under-18s before switching to boxing and turning pro in 2017.
Outside of boxing she runs a project called Pave the Way, where she gives motivational talks at schools and colleges.
"When I was younger I was banned from becoming a professional boxer," she said. "Times have changed and now I am one.
"Half of my motivation is for me - I want to make my mark. The other 50% is to pave the way and be the role model that wasn't there for me."
The winners in full
Sporting role model (Individual)
Winner: Stacey Copeland
Sporting role model (Team)
Winner: England Women's cricket team
Ambassador for Women's Sport
Winner: Lorna Boothe
Boothe won Commonwealth gold in the 100m hurdles in 1978 and is now the most senior black woman in athletics administration
National Governing Body of the Year
Winner: England and Wales Cricket Board
Brand/Sponsor partner of the year
Winner: Investec (Principal Partner of GB and England Women's Hockey)
Inspiring Initiative (Local)
Winner: Crawley Old Girls
COG aims to enable older women to learn to play football
Inspiring Initiative (National)
Winner: England Rugby's inner warrior campaign
Aimed to encourage more female players into rugby
Imagery of the year
"Standing in the light"
Media initiative of the year
Winner: The Tough Girl Podcast
A podcast with the aim of inspiring and motivating women. They interview people who have overcome difficult challenges and situations.
Outstanding contribution
Carol Isherwood
Former England captain and founding member of the Rugby Football Union for Women