ECB supports ICC's proposal to scrap toss in Test cricket
By Matthew Henry
BBC Sport
Last updated on .From the section Cricket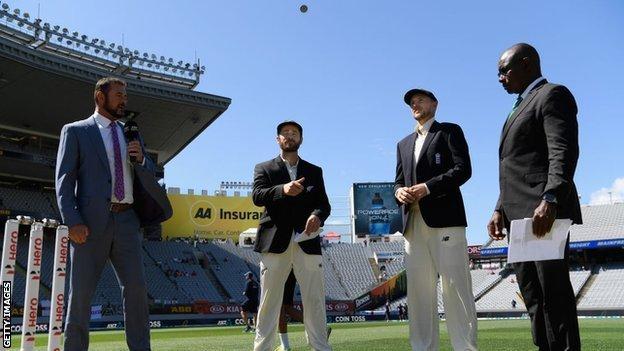 Plans to remove the coin toss in Test cricket have been backed by the England and Wales Cricket Board.
The International Cricket Council (ICC) will discuss the idea later this month as it considers ways to reduce home advantage.
It could introduce the change for the new World Test Championship, which starts with next summer's Ashes series between England and Australia.
The ECB scrapped the mandatory toss in the County Championship from 2016.
In domestic four-day matches, the visiting captain is given the option of bowling first or having the toss as normal to decide which side bats first.
The ICC could adopt that approach, with the other option being to give the visiting captain the outright choice of batting or bowling first.
The ECB brought in the change to encourage better pitches, whereas the ICC proposal is thought to be about diminishing home advantage.
In 150 Tests since the start of 2015, the away side has won only 45 matches, with 80 defeats and 25 draws (when taking the United Arab Emirates as the home venue for Pakistan).
The world governing body's cricket committee is set to discuss scrapping the toss and other issues at a meeting in Mumbai at the end of May.
A start date for any new rule about the toss is still up for discussion but a logical time to introduce it would be with the inaugural ICC World Test Championship.
The 2019 Ashes, in which England will attempt to regain the urn after a 4-0 defeat last winter, is the first event of the new competition in which nine teams will play six series of Test matches over a two-year period - three at home and three away.
There will be a minimum of two matches in each series - all of which will be scheduled to last five days - but can be expanded to five for series such as the Ashes.
The two teams with the most points will contest the final in England in June 2021.
The competition is designed to increase interest in the longer form of the game and avoid one-sided affairs.
Removing the toss in the County Championship increased the number of games lasting until the fourth day, with 85% going the distance in 2016 compared to 74% in 2015.
However, it has not led to a rise in away wins. In 2015, before the toss was scrapped, the away side won 45 matches, compared to 33 in 2016 and 36 in 2017.