100-ball competition plans because young people 'not attracted to cricket'
Last updated on .From the section Cricket456
Young people are "just not attracted to cricket", which is why a new 100-ball competition is being proposed, according to England and Wales Cricket Board chairman Colin Graves.
The concept could see innings consist of 15 traditional six-ball overs and a final 10-ball over, and matches would be 20 balls shorter than T20 matches.
The 100-ball format is set in stone, says Graves, but other details are still being discussed with different stakeholders, including county cricketers.
"It is not attracting the audiences, if it was we would not have that issue," Graves told BBC Sport.
"The younger generation, whether you like it our not, are just not attracted to cricket. In all the work, surveys and research we have done, the younger generation want something different.
"They want more excitement, they want it shorter and simpler to understand. Those are the things we have learnt for this new competition and that is what we have to make it."
Graves also said plans for a 10-ball over in the new competition are "open for discussion". The format was proposed in April but has had a mixed reaction from players and fans.
"We have got a model, we have got a skeleton and the players will be involved in that," added Graves. "The new competition board is in place to virtually launch this tournament."
Graves says the tournament will be worth £8m to county cricketers, and hopes "60-70%" of fans who attend will be coming to cricket for the first time.
New audiences?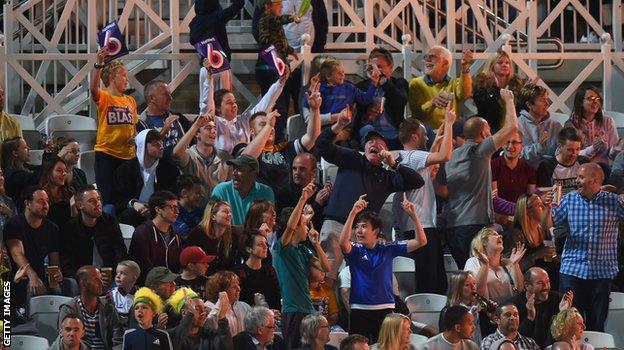 Fans on social media reacted to the proposals by describing it as "needless", "a gimmick" and "simply ridiculous" and others thought it is so madcap "players should wear clown outfits".
But England bowler Stuart Broad said it has a "unique selling point", while England one-day captain Eoin Morgan said it was "great to see innovation".
Clare Connor, director of women's cricket at the ECB, feels it will "attract more women and girls to the game".
Asked if the format was set in stone, Graves said: "Yes, as far as we and the ECB board is concerned.
"One of the things the stakeholders said to us was not to take audience away from Vitality T20 blast . They didn't want just another T20 tournament on top of what is existing.
"(Managing director) Sanjay Patel and his team have come up with something I believe that is really exciting.
"I think it is special, it is different, it is shorter. It is trying to attract the audience that we haven't got at the present time."