Virat Kohli: Surrey head coach Michael Di Venuto excited by overseas signing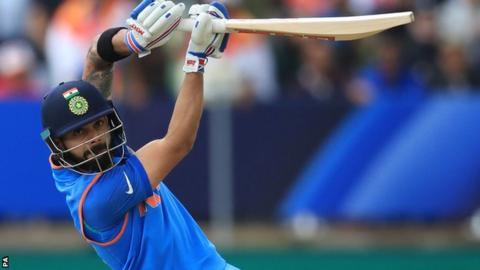 Surrey's young players are excited by the prospect of playing with India captain Virat Kohli, according to head coach Michael Di Venuto.
Kohli, 29, will play at least six games for the county in June as he joins for a stint as overseas player.
"We can't wait," Di Venuto told BBC Radio London. "The players are certainly looking forward to it, as we are as coaching staff."
Kohli is set to make his Surrey debut on 1 June against Kent at Beckenham.
He will play county cricket before leading India in their one-day and Test series against England from July.
"As soon as the signing was announced, the youngsters in the squad were so excited at the prospect of sharing the dressing room and playing with him," former Australia one-day international Di Venuto said.
"I've certainly sat and watched him score plenty of runs in the time I was working in the Australia dressing room.
"Hopefully I'm going to enjoy it a bit more when he's batting for Surrey, that's for sure."
Kohli is scheduled to play three County Championship matches and three 50-over One-Day Cup matches for Surrey.
After Kent at Beckenham, he will also visit Lord's, The Oval, the Ageas Bowl, Guilford and Scarborough with the county.
But, should Surrey reach the latter stages of the 50-over competition, he could play a couple more matches and might round off his stint with a final at Lord's on 30 June.