Virat Kohli: How social media reacted to India star joining Surrey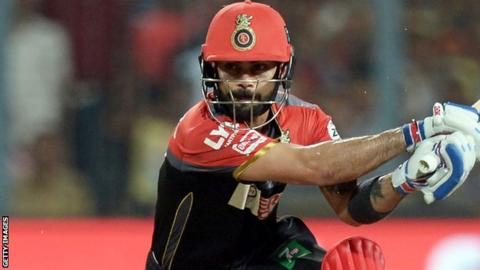 It has caused a search for extra seating, a spike in County Championship interest and Indian cricket fans to look up where Surrey is.
News that India captain Virat Kohli will join Surrey - for one month only in June - has made headlines in England, but also caused huge interest in his home country.
BBC Sport looks at some of the social media reaction, with analysis from Delhi on what the move could mean in a wider context.
Bring on Beckenham, Guildford and Scarborough
Within 40 minutes of his signing being announced 'Surrey' was trending in Twitter in India, causing fans to look up the English county in search engines.
Meanwhile, the Division One club said they have seen a "significant uplift" in ticket sales for their One-Day Cup match against Glamorgan on 6 June.
Kohli, 29, averages more than 50 in all formats for his country and will lead India in a five-match Test series in England starting on 1 August.
He will, however, miss India's inaugural Test match with Afghanistan in June while playing county cricket.
'Kohli will rekindle Indian interest in county cricket'
Analysis: Nitin Srivastava, BBC World Service correspondent in Delhi
This news has been in all the newspapers in India, and been covered extensively. I think every game Kohli plays will be reported.
It was not expected at all. All the prominent Indian cricketers - Sachin Tendulkar, Sourav Ganguly and Rahul Dravid - played for counties but mostly in the early parts of their careers, and there was no IPL then.
Kohli is the biggest player in world cricket at the moment, certainly in terms of earnings in the current crop of players, but came to England four years ago and failed in the Test matches.
We used to watch county cricket live at home in India in the 1990s, but after that the viewership came down miserably.
Nowadays county cricket is not big in India, but Kohli is going boost the English county cricket audience.
Analysis: Mark Church, Surrey commentator for BBC London
My phone started going mad. I saw Surrey's tweet and my immediate reaction is 'this is just so exciting'.
A few people are saying the signing is 'typical Surrey', but you'd be a mug not to sign a player like him when he becomes available.
I also don't subscribe to the view that we're preparing Kohli for the Test series against England. England's issue is with batting and unless I've missed something I don't think Mr Kohli is going to be bowling.
I think it says an awful lot about our competition that he wants to play in it, and I hope our listening figures might go up.