Leinster Lightning hold North-West Warriors to a draw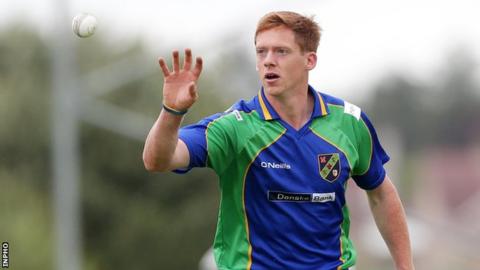 Leinster Lightning battled to a draw against North-West Warriors in the opening game of the 2018 Irish Inter-Provincial championships.
Warriors enforced the 'follow on' but came up just short of a first victory over Lightning in the Three Day format.
The home side had a first innings deficit of 223 runs and were struggling on 137 for six on the final day.
But a seventh wicket stand between Kevin O'Brien and George Dockrell salvaged a draw for the holders.
Niall O'Brien and Stuart Thompson's record-breaking fourth wicket partnership in the first innings had left Warriors in control of the match at Pembroke cricket club.
Lightning returned for the final day on 256 for eight and added a further 30 runs before the departures of Tyrone Kane and Peter Chase in quick succession.
Still trailing by more than 220 runs, the home side were forced to bat again but opener Jack Tector scored a dogged half-century before O'Brien and Dockrell combined for 76 runs to take victory away from the visitors.
O'Brien, who finished on 52 not out, and Lorcan Tucker batted out the remaining overs to seal the draw.
North-West Warriors (first innings): 509 for nine decl (137 overs) N O'Brien 165, S Thompson 148, A Gillespie 57, K J O'Brien 3-49
Leinster Lightning (first innings): 286 (86 overs) A Balbirnie 114 no, J Tector 53, C Young 4-49, D Scanlon 2-47, W Rankin 2-72; (second innings): 227 for seven (76 overs) J Tector 53, KJ O'Brien 53 no, D Scanlon 2-39, W Rankin 2-43