Sana Mir: Ex-Pakistan captain criticises body-shaming in advertising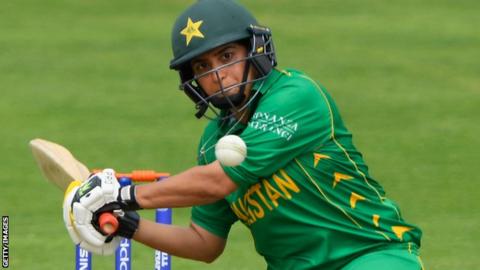 "Women are strong. People want women to be depicted as they are. The public want to see strong women out there."
Former Pakistan women's captain Sana Mir has taken a stand against body-shaming in sports advertising.
Mir saw an advert about hair removal cream that showed a group of young women playing basketball.
"One girl was sitting outside the court, not participating, just because she had hair on her arms," Mir told BBC World Service's Stumped programme.
"Rather than giving her a message that it's not such a big issue, the ad campaign gave her the solution to remove those hairs then she can join in and be a part of the practice.
"For me, a sportswoman coming from the sub-continent, I think there are far bigger challenges, rather than confusing young girls and making them self-conscious about their image and their appearance.
"We should not be putting that in the minds of young aspiring sportswomen around the world."
The off-spinner, who has taken 127 one-day and 70 Twenty20 wickets for Pakistan, wrote a Facebook post about the ad, telling young girls that "you need strong arms, not smooth arms, on a sports field".
"In the sub-continent there is a vacuum of sports icons. When I was growing up I never could find one poster of a female sports athlete," Mir said on Thursday.
"Whenever I could talk to the corporate sector about how we should depict sportswomen, they would always say 'but this is how the public want to see you' - all glamorised.
"For me, what was more important was that whenever my pictures would go out, they would depict me as an athlete first."
Mir said the response to the post - which was shared more than 1,000 times - had surprised her.
"Young girls need to know that there is more to them than their image," the 32-year-old added.
"We put a lot of pressure on young girls so I think that's something that gives me a lot of hope in the future."