Justin Langer: Australia head coach says respect 'worth more than gold'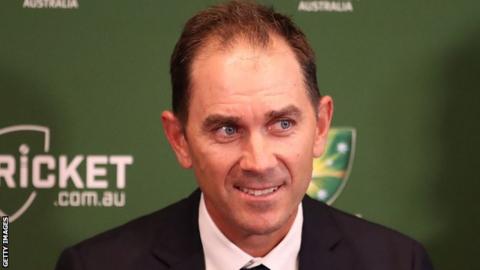 New Australia head coach Justin Langer says respect is "worth more than all the gold in the world".
Langer was appointed on Wednesday, replacing Darren Lehmann who stepped down in the wake of the ball-tampering scandal in March.
The 47-year-old said his focus would be on winning back respect for the team, both on and off the field.
"We look to encourage great cricketers but also great Australians and great citizens," he said.
"I think one of the things that's really important is that we keep looking to earn respect."
Langer's first assignment will be a tour of England, with five one-day internationals and a sole Twenty20 beginning on 13 June.
What will Langer be like as Australia coach?
Former opening batsman Langer scored 7,696 runs at an average of 45.27 in 105 Test appearances for Australia.
He retired from international cricket in 2007 and took over as Western Australia head coach in 2012, also leading the Perth Scorchers to three Big Bash League titles.
Australia's team culture was heavily criticised following the events in Cape Town, which resulted in David Warner and captain Steve Smith receiving year-long bans.
Batsman Cameron Bancroft, who was caught scratching the surface of the ball, was given a nine-month ban by Cricket Australia.
Ex-Australia batsman Adam Voges, who played for Western Australia, said Langer was a "calm and calculated" coach.
"He emphasised the need to earn respect, and that's what this team needs to do with the Australian and the world's cricketing public," Voges said.
"He'll put some pretty clear boundaries in line for what is expected of them and hopefully they can move forward from there."
Voges added that Langer, who he described as "intense and passionate" as a player, had developed as a coach.
"He continues to learn and adapt to the environment. I've seen first-hand the way he's been able to mould the Western Australia team," Voges told BBC World Service's Stumped programme.
"He'll make sure they'll be competitive and you'll certainly see some behavioural changes."
What about the banned players?
Warner, Smith and Bancroft are unable to play any international or state cricket for the duration of their bans.
Smith and Bancroft have been suspended from captaining Australia for at least the next two years, while Warner will not be considered for any future team leadership roles.
Langer, speaking on Thursday, said he would not rule out any of the players returning to the team.
"This will be a really important message: if they are willing to meet the standards of the Australian cricket team, I think everyone has a place," he added.
"Over the next 11 months there's a chance for some of the guys to take their opportunities.
"If you want to sustain success, you've got to have depth. The next 11 months give us the opportunity to even make us stronger."