Dawid Malan: Early season pink balls, proposes Middlesex and England batsman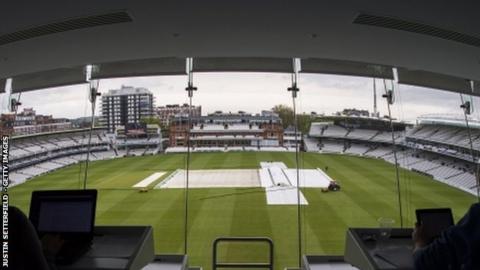 Middlesex skipper Dawid Malan has suggested trying out pink balls in early-season matches in the wake of his side's weather-hit County Championship home game with Glamorgan.
After an entire lost second day at Lord's on Saturday, Malan points out that they could have played under floodlights with a pink ball.
"It's disappointing," Malan told BBC Radio London.
"It might be worth the ECB looking at pink balls at this time of year."
He added: "We've been experimenting for the past eight or nine years. Why not throw another in?"
Malan made his first half-century for England in the first day-night Test to be played in England against the West Indies at Edgbaston in August 2017.
"I'm not a massive fan of batting under floodlights," he admitted. "Bowlers seem to feel a lot quicker.
"Administrators talk about pushing on and getting in as much play as possible but, at the end of the day, it is our careers and it can be a massive disadvantage.
"But, even with the lights we now have here at Lord's, we still didn't get much play in. We seem to play under floodlights a lot and still lose a lot of time to bad light.
"Pink balls might be worth experimenting with, rather than in the middle of the summer when we have the longest days of the year.
"You might not lose as much cricket. It makes sense to use it more at a time of year when you're more likely to use it."
Malan lasted just half an hour at the crease in his first innings since England's winter tour down under, making 5 from 20 balls.
Dawid Malan was talking to BBC Radio London's Kevin Hand