Worcestershire: Rain-hit New Road fit to stage home game with Nottinghamshire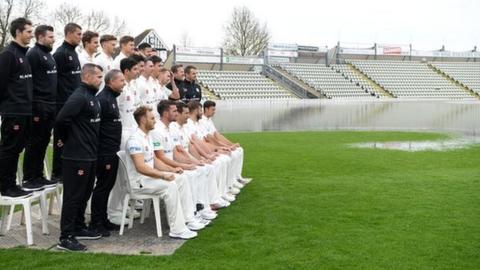 Worcestershire have been given the go-ahead to stage this week's County Championship home game with Nottinghamshire at New Road after all.
The county had laid on contingency plans to move the game following their customary pre-season flooding problem.
But the New Road groundstaff, aided by an army of volunteers, have successfully cleaned up the ground.
Subject to any further rainfall the four-day Division One fixture will begin on Friday (27 April, 11:00 BST).
"Everyone has chipped in from office staff to kitchen staff to make sure we are as ready as we can be for Friday," said new Worcestershire chief executive Matt Rawnsley.
"And the groundstaff have been terrific with their work even when bits of equipment such as the blotter have not fully functioned."
The ground looks a picture
"The club is now so accustomed to dealing with the challenges that a flood provides so everyone knows exactly what is required to overcome such an obstacle. But I have to say that the response has been above and beyond the call of duty to ensure everything is in place as near as possible for Friday.
"When I look out of my office window now, the ground looks a picture. It is hard to believe that only 18 days have elapsed since the last of the floodwaters subsided."
Worcestershire were scheduled to start with two away games against Hampshire at Southampton and Somerset at Taunton, to help avoid the annual threat of a flooded ground.
They were well beaten by 196 runs against Hampshire in the opening game and then, despite the individual efforts of Ed Barnard (11 wickets in the match and innings of 50 and 45 not out), they also lost to Somerset.
Notts, who were promoted with Division Two champions Worcestershire in September, have started with a win and a defeat from their first two games, beating Lancashire by six wickets before losing by 164 runs to Yorkshire.
Crossing the Severn
Although the River Severn flows past the ground, the flooding is not actually caused by it bursting its banks. It comes across the meadows from where it meets with the River Teme a mile downstream and up through the drains.
The flood in June 2007, when New Road lost all its home games over the second half of the season, was actually only the second worst - in terms of height - in the ground's 118-year history.
In the clean-up operation in 2007, the outfield was strewn with sewage. Some of the boundary boards floated off and were found a mile away.