World Cricket League Division Four: Jersey captain Charles Perchard targets title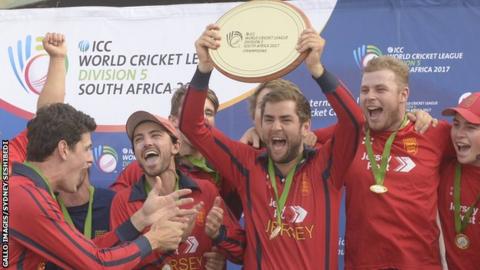 Jersey captain Charles Perchard says the island team are aiming to win World Cricket League Division Four.
Jersey have been relegated on their three other appearances in the fourth tier of global one-day cricket for non-Test playing nations.
The six-team tournament in Malaysia runs from 29 April to 6 May.
"In the past we've never fared well in this division, but I'm super-confident that we've got the players to win this competition," Perchard told BBC Jersey.
The islanders have prepared well, attending a training camp at Hampshire's Ageas Bowl and beating Kent's second XI - their first-ever win over a county side.
As well as having Jonty Jenner and Jake Dunford in their ranks - who have both joined the MCC's prestigious Young Cricketers Programme - former Leicestershire all-rounder Nick Ferraby will be making his Jersey debut.
The 35-year-old is eligible to play for the island internationally after completing the necessary residency requirements since first moving there in 2015.
"It's been a long pre-season," said Jersey coach Neil MacRae.
"They did a fitness test in the first week of January and that sorted a few people out after Christmas.
"They've worked incredibly hard over the last three months, they've all maxed-out on their fitness test scores and it's the fittest we've ever been, so that stands us in good stead for the tournament."
Jersey will face hosts Malaysia, Uganda, Denmark, Bermuda and Vanuatu in the round robin stage of during the competition.
Jersey squad: Charles Perchard (capt), Corey Bisson, Dominic Blampied, Cornelis Bodenstein, Harrison Carlyon, Jake Dunford, Nick Ferraby, Peter Gough, Anthony Hawkins-Kay, Jonty Jenner, Elliot Miles, Will Robertson, Ben Stevens, Nat Watkins.