100-ball innings: Fans and players react to new ECB proposals
Last updated on .From the section Cricket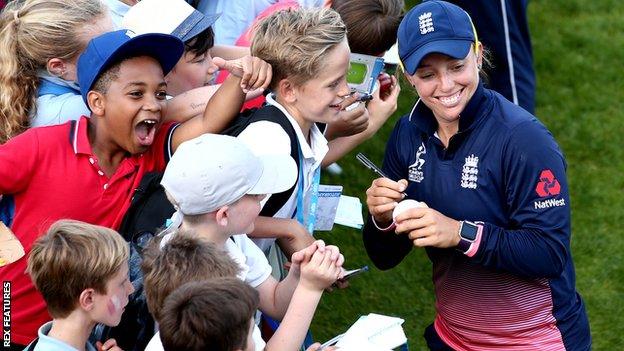 Some have described it as "needless", "a gimmick" and "simply ridiculous" by some fans.
Others think it is so madcap "players should wear clown outfits" and "the stumps should be made out of jelly".
Those in favour say it is "trying to appeal to a new, younger audience" and will "attract more women and girls to the game".
But what do those inside cricket and on social media say about proposals for a '100-ball innings' in the new eight-team, city-based tournament, which starts in 2020?
'It's got a unique selling point'
England and Nottinghamshire fast bowler Stuart Broad says he "loves" the fact that it will be different to all of the other tournaments across the globe.
The format will consist of 15 traditional six-ball overs and finish with a 10-ball over. Each innings will be 20 balls shorter than T20 matches.
"It's got a unique selling point and a slightly shorter game is perfect for children and families," Broad, 31, said.
"You're stepping into the unknown tactically and that brings a lot of intrigue. Everything is brand new and that brings a lot of excitement."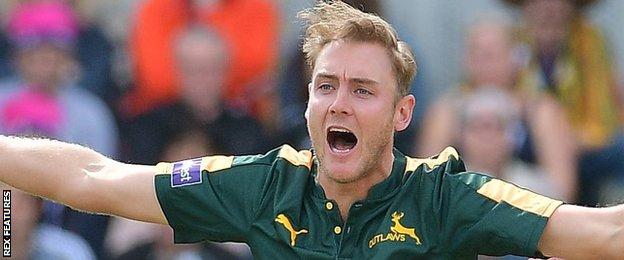 Southampton, Birmingham, Leeds, London, Manchester, Cardiff and Nottingham have been selected as venues for the five-week competition which will not overlap the existing T20 Blast.
"I like the fact that it will finish in one block, rather than having a final at the end of the summer," Broad added.
"You get into a rhythm when a tournament is going and you can follow your team and see players consistently on TV and at the grounds."
England one-day captain Eoin Morgan is also looking forward to the new format.
"The landscape of cricket has changed over the last 10 years," the Middlesex batsman said.
"It's great to see innovation helping to grow the game."
How will it affect the County Championship?

BBC cricket correspondent Jonathan Agnew says he understands the ECB had to make the new tournament different to the T20 Blast, but whether it attracted a new audience remained to be seen.
"At the moment, the interest among existing cricket fans is lukewarm at best," he said.
"The board emphasises that this eight-team city-based competition, some of which will be shown on terrestrial television, is all about fresh faces and families.
"For many, the most important aspect to the congested 2020 season will be how the board awards quality time to the County Championship to preserve the performance of the England Test team."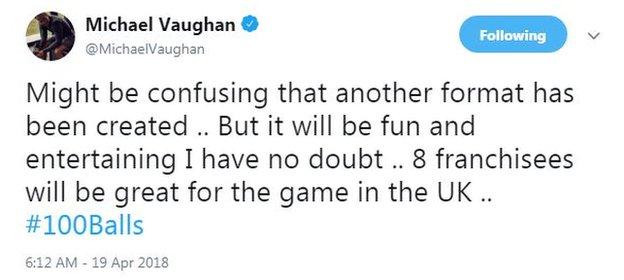 What are the fans saying?
Hundreds of people have been in touch with the BBC to give their thoughts on the plans - the majority of which have been critical.
Here is a snapshot of how the public are feeling...
Duncancobbett: How about rebranding Test cricket to 2700 ball cricket?
Midnight Rambler: What about jetpacks for fielders? How about invisible bats? Why don't we make the stumps out of jelly?
Sarah: So it's not a T20 then. Seriously why pander to those with the attention span of a gnat? Nothing wrong with 20 overs. Next it'll be a 10 ball shoot out.
Ben Birtwell: How about sudden death, 1 ball each. For today's attention span, apparently
Len: Twenty20 cricket has proven to bring in new audiences, so why tamper with the format again when there's no guarantee it'll improve the game? So needless.
BigRob: Why not make the game even quicker to appeal to those who crave instant and just decide who wins by the toss of a coin?
John: The cricketers should wear clown outfits too
'It will attract more women and girls'
A women's tournament with the same format and team identities will run alongside the men's competition, replacing the current 20-over Kia Super League.
Clare Connor, director of women's cricket at the ECB, says it will give the women's game a "greater reach, scale and prominence" than ever before.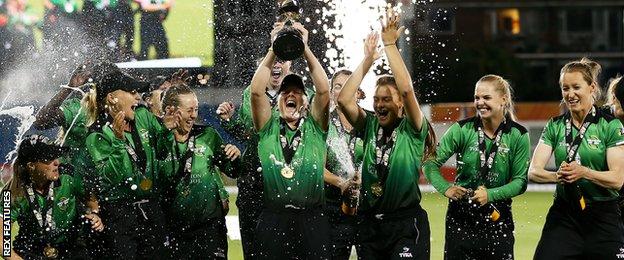 "Our World Cup win at Lord's last July showed what's possible in terms of our sport reaching a new, younger and more diverse audience," the former England all-rounder added.
"Kia Super League has had a huge impact on participation, player development and the profile of our game. It was a big investment and a bold decision by the board and paved the way for this next stage of growth.
"To build the women's and men's competitions and identities together, side by side, is a prospect that few sports ever have and will give us greater reach, scale and prominence.
"It will attract more women and girls to the game, ensure that cricket reaches and entertains more families and give our players an exciting stage upon which to display their talent."