Australia captain Tim Paine says team will reduce sledging after ball-tampering scandal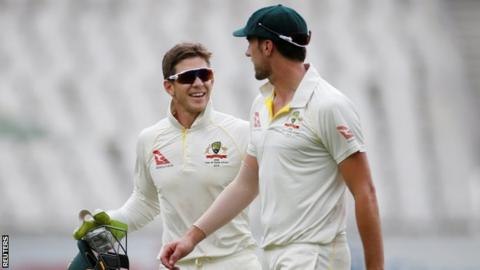 New Australia captain Tim Paine says the team will reduce their levels of sledging under his leadership.
Paine replaced Steve Smith as Australia skipper after Smith was banned for his part in the ball-tampering scandal.
Australia have also been criticised for an aggressive on-field approach and Cricket Australia launched a review into the team's culture.
"I think what's said and how it's said will be very different going forward," wicketkeeper Paine, 33, said.
"A lot of this stuff we were actually starting to speak about under Steve [Smith's captaincy]."
Smith and vice-captain David Warner were given year-long bans by Cricket Australia and batsman Cameron Bancroft a nine-month suspension after admitting to being involved in ball tampering during last month's Test series defeat by South Africa.
Paine said he will continue to speak to Smith "quite closely" about the team's change in culture and will "keep him in the loop".
Asked if sledging will remain a part of the Australian team's tactics, Paine said: "No, I don't think it will, not a lot.
"I think there's always a time and a place to talk to your opposition, but I think what's said and how it's said will be very different going forward."
Australia do not play another Test until October when they face Pakistan while their next fixtures are a one-day international series against England in June.
"I'm really looking forward to playing that role and winning back the trust and respect of our fans and the Australian public first and foremost," added Paine.
"I don't think it's as disastrous as it's been made out. We've had this incident which has brought everything to a head.
"During the Ashes there wasn't a lot said about our culture and looking back it's just a few little things we can tweak and do a little bit better as a team.
"If we do that then I think the Australian public will jump back on board pretty quickly. That's one of our main aims for this coming summer."