Australia ball-tampering: Matt Renshaw backs Cameron Bancroft to recover from ban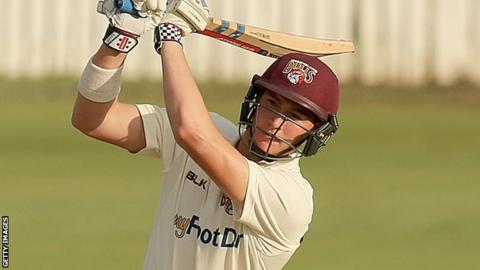 Matt Renshaw has backed Australia team-mate Cameron Bancroft to return stronger from his nine-month ban for his part in the ball-tampering scandal.
Renshaw, 22, has replaced Bancroft as overseas player at Somerset after the 25-year-old was suspended.
"It's a tough scenario to be in and I feel for Cameron, but I think he'll be back at some point," Renshaw said.
"He's a really good bloke and a really good cricketer. Hopefully he'll be back bigger and stronger."
Batsman Bancroft decided he would not contest his ban, which was imposed by Cricket Australia for the incident in the third Test against South Africa in March.
Opener Renshaw was drafted into the Australia squad for the fourth Test in Johannesburg after Bancroft, ex-captain Steve Smith and former vice-captain David Warner were all banned.
"It was probably the least preparation I have had for a Test match," Renshaw told BBC Points West. "I tried to take everything on the chin and bring some energy to a pretty flat group.
"They were all quite stressed from that last week, and I can imagine being in that group would not have been a very pleasant scenario."
Ashes aspirations
Middlesbrough-born Renshaw, who has played 11 Tests, is available to play for Somerset in all formats of the game until 30 June and will then return to Taunton on 19 August for the remainder of the season.
He hopes he can impress during his time in county cricket as he aims to cement a place in the Australia squad, with an Ashes series in the United Kingdom on the horizon in the summer of 2019.
"A lot of Australians talk about coming over here and it being a really good challenge," the left-hander said.
"I'm looking forward to playing against some guys who I have been following over the last couple of years. I will embrace every opportunity I get ahead of what could be an Ashes tour next year.
"It is important to try to get experience on certain grounds which play differently to others.
"Getting as much experience as I can at such a young age will be really important to those aspirations of playing in the Ashes."