Matthew Maynard laments T20 batting influence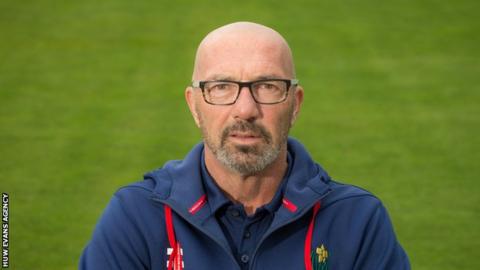 Former England and Glamorgan batsman Matthew Maynard says the influence of Twenty20 cricket has caused problems for openers in longer forms of the game.
He says since Andrew Strauss retired, England have been unable "to get a successful partner for Alastair Cook".
Maynard added: "It's an issue throughout the game.
"The four-day mentality seems to have disappeared a little bit with the advent of T20 cricket."
Strauss retired in 2012 having amassed 3,343 runs in 50 Tests as England captain at an average of 40.76.
In his 154 Tests, Cook has an average of 45.73 with 12,028 runs, the last of them coming in the series defeat by New Zealand in March, having also been whitewashed 4-0 in the Ashes by Australia during the winter.
Instant success
Maynard, a former England assistant coach, has rejoined the Welsh county as batting consultant after previous spells as captain and coach.
He has also been director of cricket at Somerset as well as taking charge of South Africa's Titans and St Lucia Zouks in the West Indies.
"Those guys who look to occupy the crease and bat two, three, four sessions to get 140s and so on, there are little of them at the moment, they want a lot more instant success," said Maynard.
"Fundamentally, what makes a good batsman with someone like Alastair Cook, when I was working with England, was his game awareness, his plan of how and where he was going to score."
Donald revival
While citing Glamorgan opener Nick Selman as someone who can bat for a long time once established, Maynard is hoping to bring about improvements for hard-hitting Aneurin Donald.
The 21-year-old hit the headlines when he equalled the record for the fastest-ever first-class double century, but was left out towards the end of 2017.
"Aneurin's worked really hard on a couple of technical aspects, he's been out in Perth working with ECB-recommended coach Noddy Holder in the last couple of winters, but it hasn't really suited his game," explained Maynard.
"He's a huge striker, but because of how his set-up was, it leaves him very fallible to a ball that comes back at him and someone like Kevin Pietersen, a really terrific player, was susceptible to that ball.
"With Aneurin, he's done a lot of work in keeping his bat as straight as possible rather than across the line, he's really worked hard and we're hopeful we'll see a more mature Aneurin Donald at the crease this year."
Carlson promise
Kiran Carlson, 19, is another young batsman hoping to benefit from Maynard's guidance, having previously taken his record as the county's youngest Championship centurion.
"Having Matt has really helped me and a few of the young batters to have a clear mindset and game-plan when we go into four-day batting," he enthused.
"You want to get yourself in and have that four-day mentality, but you still have to play your game and bat with personality as well."
Carlson faces a hectic time combining Championship cricket with completing his first year in Civil Engineering at Cardiff University, but is unworried.
"It helps me, it gives me another outlet in which I can de-stress, even though it seems counter-intuitive.
"Crofty [Robert Croft] and Hugh Morris, chief executive, will work with me if I need to hit the books after a day's play."
Glamorgan start their competitive season in the Championship away to Gloucestershire on Friday, 20 April.