Cameron Bancroft: Somerset would consider future move after cancelling 2018 deal
Last updated on .From the section Cricket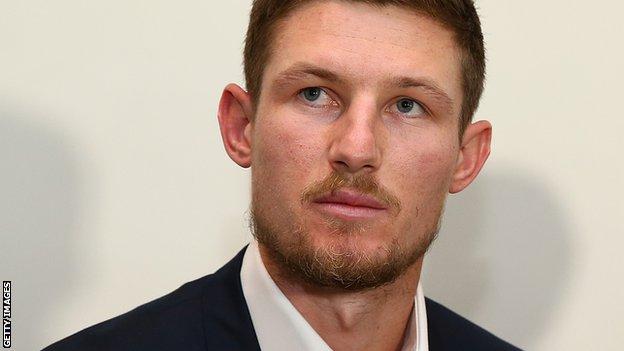 Somerset director of cricket Andy Hurry would consider signing Australia batsman Cameron Bancroft in the future, despite confirming he would no longer be joining them this summer.
Bancroft was given a nine-month ban after he used sandpaper to damage the ball in a Test against South Africa.
The 25-year-old had been set to join Somerset as their overseas player.
Hurry, who confirmed Bancroft had still been "keen to come to Somerset", said "the door would never be closed".
He continued: "As long he learns from this, and I'm convinced he will do, I think we'll reassess the situation moving forward."
Australia captain Steve Smith and vice-captain David Warner were both suspended for 12 months by Cricket Australia for their involvement in the incident.
The pair - who, along with Bancroft, remain eligible to play outside Australia - were also banned by the Indian Premier League from taking part in this year's competition.
"I think Cameron is a man of immense character and I think he's demonstrated that in how he's held himself since last Saturday," Hurry told BBC Somerset.
"But we can't hide behind the fact he made a very poor choice and there will be consequences associated to that.
"We've all made mistakes and he's certainly remorseful around the actions he took."
Somerset signed Bancroft in December to play for them in the County Championship and One-Day Cup this summer, but the club have now reversed their decision.
"He wants to move forward from this and I'm convinced, with the appropriate support, that he will get stronger, become even more resilient and really learn from this - which is the most important thing," added Hurry.
"He'll definitely come back stronger, he will rebuild his career and I'm convinced he's a player of very high potential."
Somerset's decision was announced on the same day that Australia coach Darren Lehmann announced he would be stepping down after the final Test against South Africa.