Ireland men and women to play T20 double-header against India and Bangladesh
Last updated on .From the section Cricket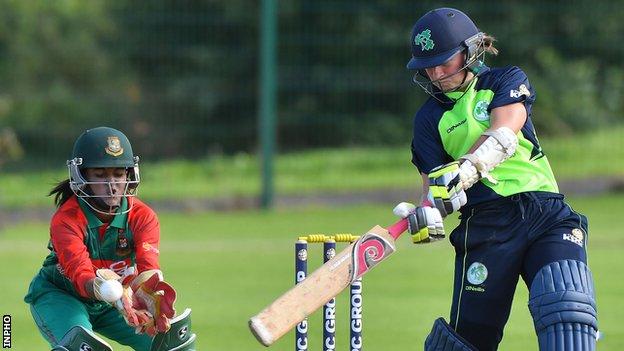 Ireland women's team will play Bangladesh at Malahide on 29 June as part of a T20 double-header with the men facing India later in the day.
Cricket Ireland said the decision to stage the matches on the same day is an attempt to support the growth of the Irish women's game.
"It should be an occasion to savour," said Cricket Ireland's Performance Director Richard Holdsworth.
"This will give a real boost in exposure for our women."
The women's match will start at 11:00 BST at the north county Dublin venue with the men's encounter with India following at 16:00.
Cricket Ireland recently approved a 50% increase in investment for the women's game which will include providing player payments for loss of earnings when they represent their country.
"We are additionally able to improve coaching staff hours, increase overseas player development opportunities, and facilitate greater access to support services such as physio and medical, strength and conditioning, psychology and nutrition education," added Holdsworth.
Ireland players Kim Garth and Isobel Joyce both played in this year's Women's Big Bash League in Australia with their international team-mates also having recent club stints in Adelaide and Brisbane.
The Irish women, ranked 10th in the world, will open their summer campaign with a limited overs series against third-ranked New Zealand in early June.
The series will start with a T20 game at YMCA on 6 June before one-day games also at Dublin venues on 8, 10 and 13 June.
Prior to the T20 double-header with the men on 29 June, the Irish women will also face Bangladesh at YMCA on 28 June.
Ireland's men begin their international summer season with their historic first ever Test match against Pakistan which starts at Malahide on 11 May.