Australian ball-tampering: Steve Smith, David Warner and Cameron Bancroft apologise
Last updated on .From the section Cricket1982
Former Australia captain Steve Smith broke down in tears as he apologised for his part in the ball-tampering scandal.
Smith and batsmen David Warner and Cameron Bancroft have been banned by Cricket Australia for the incident in the third Test against South Africa.
"It was a failure of my leadership," said the 28-year-old at a news conference in Sydney.
Bancroft and Warner have also apologised for their actions.
Australia coach Darren Lehmann, who was cleared of any involvement in the incident, announced later on Thursday that he would stand down following the current Test series with South Africa.
Smith added: "I am deeply sorry, I love the game of cricket, I love kids wanting to play the great game of cricket that I love.
"Any time you think about making a questionable decision, think about affecting your parents.
"To see the way my old man has been, and my mum, it hurts. I just want to say I'm sorry for the pain I have brought to Australia and the fans and the public."
In a social media post, Warner said the incident had "damaged cricket" and was "a stain on the game we all love".
Bancroft spoke to the media in Perth and said: "It's something I will regret for the rest of my life. I feel like I've let everyone down in Australia."
The 25-year-old, who was playing his eighth Test, received a nine-month ban from international cricket after it was revealed he used sandpaper to damage the ball during the third Test against South Africa. He had initially claimed he used tape after the incident was caught on camera.
"I lied. I lied about the sandpaper," Bancroft said. "I panicked in that situation and I'm very sorry. I feel like I've let everyone down in Australia."
Smith admitted that the Aussie "leadership group" had devised a plan to tamper with the ball, and Cricket Australia's investigation found Warner instructed Bancroft how to carry it out.
He also denied it had happened before, following suggestions similar tactics were employed in the recent Ashes series against England.
Both Smith and Warner have been given year-long suspensions from international cricket.
Smith, 28, and Bancroft have also been banned from captaining Australia for at least the next two years, while Warner, 31, will not be considered for any team leadership positions in the future.
All three players have been sent home from the tour.
Bancroft was due to play in England for Somerset this summer but the county announced on Thursday that he would "not be joining Somerset County Cricket Club as an overseas player this season".
What the players said
Steve Smith speaking to the media in Sydney: "To all my team-mates, to fans of cricket all over the world, to all Australians who are disappointed and angry, I am sorry. I want to make clear that as captain of the Australian cricket team I take full responsibility.
"I made a serious error of judgement and I now understand the consequences. It was a failure of my leadership. I will do everything I can to make up for my mistake and the damage it has caused.
"If any good can come of this, I hope I can be a force for change. I know I will regret this for the rest of my life. I am absolutely gutted. I hope in time I can earn back respect and forgiveness.
"To my knowledge this has never happened before. This is the first time I've seen this happen and I can assure you it will never happen again."
David Warner on Twitter: "To cricket fans in Australia and all over the world: I am currently on my way to Sydney. Mistakes have been made which have damaged cricket. I apologise for my part and take responsibility for it.
"I understand the distress this has caused the sport and its fans. It's a stain on the game we all love and I have loved since I was a boy.
"I need to take a deep breath and spend time with my family, friends and trusted advisors. You will hear from me in a few days."
Cameron Bancroft speaking to the media in Perth: "I want to say that I'm very sorry. I'm very disappointed and I regret my actions. It is something I will regret for the rest of my life.
"I lied. I lied about the sandpaper. I panicked in that situation and I'm very sorry. I feel like I've let everyone down in Australia
"The thing that breaks my heart the most is that I've given up my spot in the team for free. People know I worked so hard to get to this point in my career and to have given up that chance for free is devastating.
"It's going to be a really long road particularly for myself to earn that respect back but for me that's the most important thing."
'I hope they will be given a second chance'
England captain Joe Root, who is preparing his side for their second Test against New Zealand in Christchurch, was asked about his thoughts on the incident.
"I think Cricket Australia has made a decision which is a bit of a statement to world cricket," he said.
"I think it's quite a strong message for everyone."
Many former players took to social media to give their thoughts: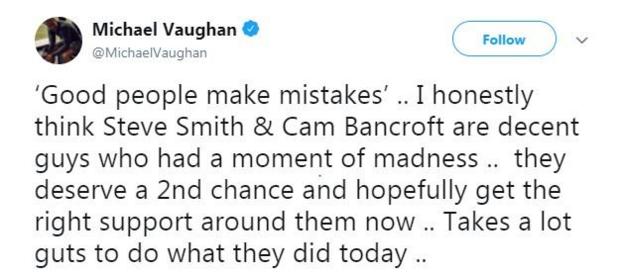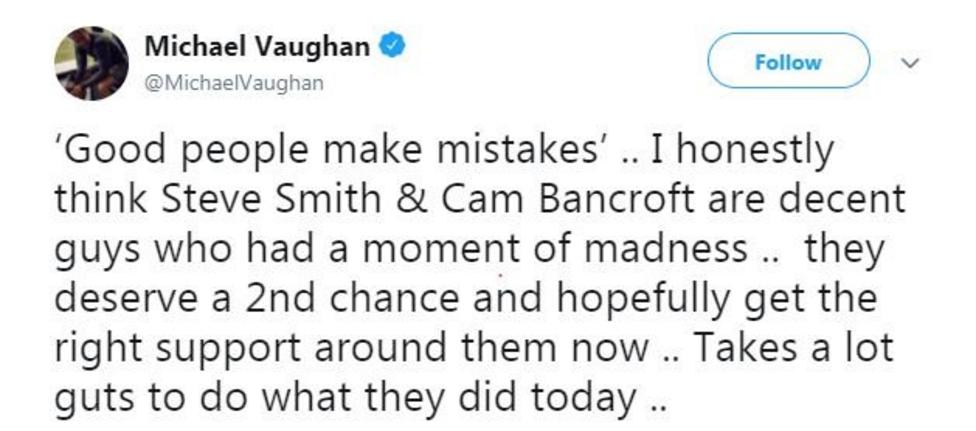 Smith dropped as the 'Weet-bix Kid'
The ball-tampering incident, and its subsequent media exposure, has already had financial implications on Cricket Australia and the players involved.
Smith and Warner have lost their lucrative contracts with the Indian Premier League, reported to be worth more than £1m each.
Magellan, the naming rights sponsor of the Australian Test team, has pulled out of its deal two years early while sportswear company Asics has ended its partnerships with Smith, Bancroft and Warner.
Smith has also been dropped as the face of breakfast cereal Weet-Bix.
Are the punishments too severe?
Players' body the Australian Cricketers' Association says "it is right" to sanction the players for their parts in the scandal but questioned "the severity and proportionality of the proposed sanctions".
The organisation, which says it is providing support to the three, cited several reasons why it believes the bans are not "fair".
They include the sanctions being "considerably higher" than the punishments meted out for similar offences by the sport's world governing body, the International Cricket Council (ICC).
The ICC banned Smith for one game and fined him his entire match fee, while Bancroft was fined 75% of his match fee and given three demerit points.
Warner was not punished by the ICC.
The governing body announced on Thursday it is to conduct a review into player behaviour and appropriate sanctions.