Australia ball-tampering: Steve Smith, David Warner & Cameron Bancroft sent home from SA
Last updated on .From the section Cricket1342
Australia captain Steve Smith, vice-captain David Warner and batsman Cameron Bancroft will be sent home from South Africa for ball-tampering in the third Test in Cape Town.
However, Cricket Australia chief executive James Sutherland says head coach Darren Lehmann was not involved in the controversy and will remain in his post.
Sutherland added that the sanctions to be handed down to Smith, Warner and Bancroft within the next 24 hours will be "significant".
He said: "It is not in the spirit of the game. It is not a good day for Australian cricket."
Wicketkeeper Tim Paine has been named as captain for the rest of the series.
Matthew Renshaw, Glenn Maxwell and Joe Burns have been called up as replacements and will fly out to South Africa for the fourth Test, which begins in Johannesburg on Friday.
'James, is it cheating though?'
Asked repeatedly at the news conference if he would describe the ball-tampering as "cheating", Sutherland avoided using the term.
Journalist: "There's one word you haven't mentioned - did they cheat in your eyes? Is this cheating?
Sutherland: "In the laws of the game, this is not in the spirit of the game. I am angry and disappointed.
Journalist: "Is it cheating though? Is it cheating?"
Sutherland: "It is not a good day for Australian cricket."


Sutherland also told the news conference: "I share the anger and disappointment of Australian fans and the broader Australian community about events that unfolded in Cape Town on Saturday.
"On behalf of Cricket Australia, I want to apologise to all Australians that these events have taken place, especially to all kids who love cricket and idolise the players.
"I want to also apologise to Cricket South Africa and South African fans that this issue has overshadowed what should have been a great series.
"We recognise this issue goes beyond the technical nature of offences and various codes of conduct. It is about whether Australians can feel proud of their national sport teams.
"While the investigation is not complete, preliminary findings have been discussed by Cricket Australia's board."
Cricket Australia reacts to initial findings
Bancroft and Smith were exposed during the third day of the third Test when images showed the opening batsman take what he said was yellow tape out of his trouser pocket before rubbing the ball.
After the day's play, Smith admitted the team's "leadership group" had a plan, carried out by Bancroft, to tamper with the ball to "get an advantage".
After beginning an investigation on Sunday, Cricket Australia told reporters on Tuesday that their sanctions will be in addition to those imposed on Smith and Bancroft by the sport's world governing body.
The International Cricket Council (ICC) banned Smith for one match and fined him his entire match fee, while Bancroft was fined 75% of his match fee and given three demerit points.
Warner was not punished by the ICC, but both he and Smith stepped down from their roles for the remainder of the third Test, which South Africa won by 322 runs the following day. The Proteas lead the series 2-1 with one to play.
Sutherland said: "The players involved have officially been reported for breaching Cricket Australia's code of conduct.
"I want to stress we are contemplating significant sanctions. These will reflect the gravity of the offences and the damage done to Australian cricket.
"We want to re-engage with Australian cricket fans and public to restore respect and pride.
"I understand and share the anger by the Australian cricket family. This is a serious issue that needs to be dealt with properly and with due diligence."
Will Warner regret past comments?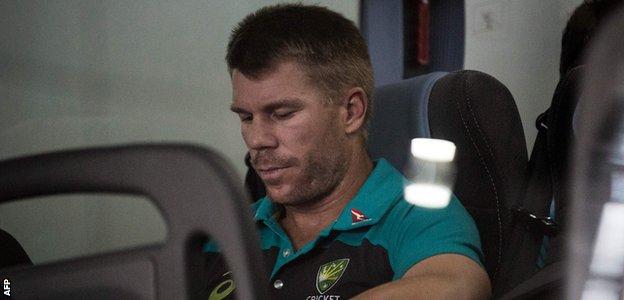 In 2016, South Africa skipper Faf du Plessis was fined 100% of his match fee but avoided a ban for ball-tampering in their series against Australia.
Television footage appeared to show the 33-year-old licking his finger and shining the ball while eating a sweet.
Responding to the incident, Warner had said: "From an Australian cricket perspective, we hold our heads high. I would be very disappointed if one of our players did that.
"For us it is about controlling what we can do. The rules are in place for a reason, so if you are not going to use them, why bother having them?
"We the players know the guidelines so if you are going to overstep the mark, you will get fined and must be prepared to miss Test matches too."
Analysis - 'I'll be surprised if Warner plays for Australia again'
Jim Maxwell, ABC commentator on BBC Radio 5 live
It was such a blatant, brazen, pre-meditated act, what else was it other than cheating? We need to know pretty soon what these sanctions are.
Having travelled on the team plane from Cape Town, I was in one of those awkward situations where I wanted to say something to Steve Smith but whatever I said, it wasn't going to go the right way.
I did say something and then he turned his head away so I had to go and speak to the security.
I told him to tell Steve that there is a tomorrow, and you should have been more vigilant in what was happening on the field.
Warner's the one who really should wear most of this, and I'll be very surprised if he plays for Australia again.
He's clearly been ostracised by the rest of the players, I could see that in the body language on the plane, so I think he's pretty close to persona non grata from here on.
My understanding of the conversation is that it went like this. They were about to go out after lunch, and Smith saw Bancroft and Warner in collusion.
He said "what are you blokes doing? I don't want to know what you're doing", and then he went out onto the field.
Unfortunately, he didn't realise exactly how dire the act they were about to perpetrate on the field was. The cameras got them and Smith is going to cop a ban.
What has happened?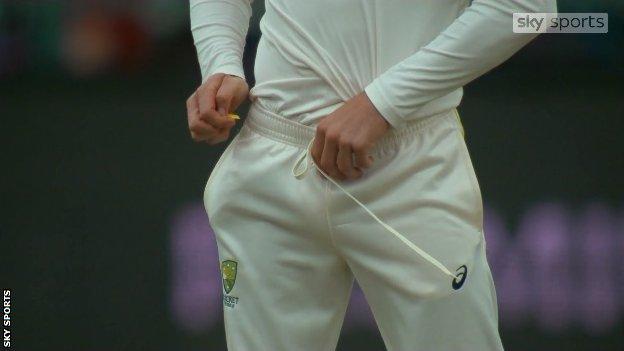 In a news conference, Bancroft says he has been charged with attempting to change the condition of the ball.
Smith says the team's "leadership group" had spoken about it and "thought it was a way to get an advantage". He describes it as a "big mistake" but adds he will not stand down as captain.
Smith is banned for one match and fined his entire match fee by the ICC. Bancroft is fined 75% of his match fee and gets three demerit points.
Australia lose 10 wickets in the final session of day four to lose the third Test in Cape Town by 322 runs.
Smith steps down as captain of Rajasthan Royals so the team can prepare for the IPL "without the ongoing distractions".
Smith, Warner and Bancroft sent home, but Lehmann not involved in the controversy and will remain in his post.
More reaction from the world of cricket
Former England captain Michael Vaughan: Sounds to me like Mr QC & Mr Lawyer have got involved because of the lengths of the bans........


The Sun's John Etheridge: Lehmann so fortunate to survive. Even if the walkie-talkie business was innocent and he knew nothing of the ball-tampering, he has overseen and indeed encouraged the team culture.