Australia ball tampering row: Darren Lehmann & Steve Smith criticised by John Buchanan
Last updated on .From the section Cricket
It would be "highly unusual" if Australia coach Darren Lehmann was unaware of his players' plan to tamper with the ball against South Africa, says former coach John Buchanan.
Buchanan, who led Australia between 1999 and 2007, also believes captain Steve Smith's position is untenable.
Cricket Australia says it expects to "fully update" people on Tuesday about its findings on the incident.
"We know Australians want answers," said chief executive James Sutherland.
Smith has been banned for one match and fined his entire match fee by cricket's world governing body for his involvement.
But Australian cricket chiefs have held off on issuing punishments while they carry out their own inquiry.
"It is unusual as the teams are walking out that the coach is unaware of what's about to happen," Buchanan, who led Australia to a world-record 16 consecutive Test victories and three World Cup triumphs, told BBC Radio 5 live's Breakfast programme.
"Generally it will be the coach and captain, in the last couple of minutes before they go to the field, who will be saying 'these are the sort of things we want to do and put in place when we get out on the field'."
He added: "Personally I don't think Steve Smith can continue as captain. It may be his first major error but it is such an enormous error of judgement.
"Hopefully he can continue as a player but I would have thought there is very little opportunity for him to retain his position as captain."
Former Australia batsman Marcus North, who played 21 Tests in 2009 and 2010, thinks it is "inevitable" Smith will not continue as captain and says Lehmann faces "some difficult questions".
An ill-tempered series against South Africa has been marred by confrontations between players and complaints from Lehmann about "disgraceful" verbal abuse.
"The behaviour of the team recently has not been up to the standard expected," said North.
"We have already seen a lot of issues in this series and this is another thing that has happened in his tenure."
Australia's prime minister Malcolm Turnbull said the latest incident had "shocked and bitterly disappointed" him.
Many former players have criticised the actions of the current Australia team and management, with ex-skipper Michael Clarke - Smith's predecessor - describing it as "premeditated cheating".
Senior Cricket Australia (CA) officials Iain Roy and Pat Howard have arrived in South Africa to conduct an inquiry into the "specifics" of the incident.
Sutherland is travelling to Cape Town and will meet Roy and Howard on Tuesday to "understand the findings of the investigation to that point, and to determine recommended outcomes".
How the incident unfolded
Smith said the team's "leadership group" had agreed a plan, carried out by batsman Cameron Bancroft, to tamper with the ball to "get an advantage".
Bancroft admitted in a news conference following the third day's play that he had tampered with the ball while fielding, after television pictures showed him using what the 25-year-old opener says was yellow tape with grit on.
Smith, who appeared alongside Bancroft at the news conference, will miss the fourth and final Test of the series after being punished by the International Cricket Council (ICC). He also stepped down from his captaincy role for the final day of the Test, which Australia lost.
But Smith said he would not consider stepping down permanently, adding that he was still "the right person for the job".
Bancroft was fined 75% of his match fee and given three demerit points.
Smith, 28, admitted a charge of conduct "of a serious nature that is contrary to the spirit of the game", according to a statement from governing body the ICC.
ICC chief executive David Richardson said "the game needs to have a hard look at itself", while the MCC - the guardian of the laws and spirit of cricket - has called for a "major shift in attitude and culture" within the game.
Australia lost 10 wickets in the final session of day four to lose the third Test by 322 runs. The final match of the ill-tempered series, which South Africa now lead 2-1, begins in Johannesburg on Friday.
'A terrible day', 'pathetic penalties' - how did people react?
Clarke said the incident was "a terrible day for Australian cricket" and condemned its instigators for choosing Bancroft to carry it out.
"I can't believe the leadership group have got a young kid playing in his eighth Test match to do this," Clarke told Australia's Channel Nine.
"We have got the best bowling attack in the world. We don't need to cheat to beat anyone."
Former Test vice-captain Adam Gilchrist told BBC Radio 5 live he was "stunned and shocked... embarrassed and sad".
The legendary wicketkeeper added: "Australian cricket is the laughing stock of the sporting world."
Former Australia fast bowler Jason Gillespie said he expected to see a "big change of personnel" in the current set-up following the incident.
"The Australia side has to have a deep reflection on how they go about the game, how they're perceived in the wider cricketing world," he said. "That perception isn't good, that's the brutal reality."
Former England captain Michael Vaughan criticised the "pathetic penalties" handed down to Smith and Bancroft by the ICC. In a series of tweets, Vaughan said: "Surely this moment was the time to set a precedent. All the team should be penalised."
Analysis
BBC cricket correspondent Jonathan Agnew:
Ball-tampering has always happened in cricket but it's exceptionally difficult to prove. This time they have someone who has admitted his guilt - he's a captain, the act was premeditated and, worst of all, he has clearly coerced the most inexperienced player in his team to go out and do the dirty work for them, and that's awful.
Australia have very few friends in cricket at the moment. The boorish way in which they've behaved over the years hasn't helped.
The current series between Australia and South Africa has been ill-tempered. There's been bad blood about the way the Australians play the game.
Many in the cricket world will feel a sense of satisfaction today about what they'll see as chickens coming home to roost.
I really think this is an opportunity for the Australian authorities to look very carefully at their game.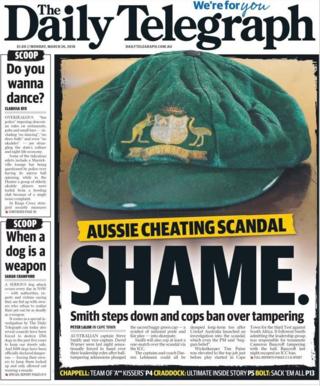 The Daily Telegraph in Australia