Ball-tampering: Australia launch investigation, Steve Smith remains captain for now
Last updated on .From the section Cricket
Cricket Australia chief executive officer James Sutherland says he is "shocked and extremely disappointed" and has begun an investigation into the ball-tampering scandal involving the Australia team on tour in South Africa.
Two senior CA officials will travel to South Africa to "gather relevant information", but Smith will remain as captain for now.
"Steve Smith is currently captain, we are working through a process. Once we have a clearer picture of the facts we will be able to make further comment," Sutherland said on the skipper's position.
Former Australia batsman Simon Katich told Melbourne-based radio station SEN News that CA had "no option" but to sack Smith, vice-captain David Warner and head coach Darren Lehmann, while ex-fast bowler Rodney Hogg also called for Smith to step down, for what he called "blatant cheating".
Television footage showed Bancroft, who has been charged over the incident by the International Cricket Council, take what he said was yellow tape out of his trouser pocket before rubbing the ball during the third Test at Newlands.
Smith said the team's "leadership group" had spoken about it and "thought it was a way to get an advantage" but said he would not step down.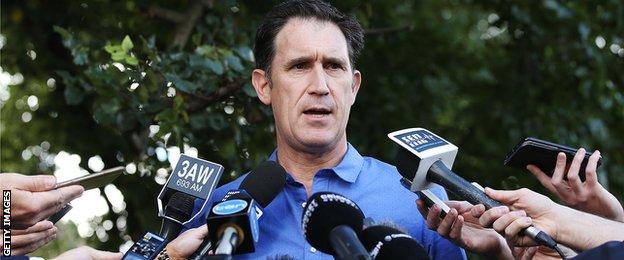 CA's head of integrity Iain Roy and head of team performance Pat Howard will now travel to South Africa.
"We have a responsibility to take this further and to understand more about the issue," Sutherland said. "We will, over the next couple of days, get a deep understanding of what happened and why.
"We are extremely disappointed and shocked and we are dealing with this issue with utmost urgency and seriousness.
"This is a very sad day for Australian cricket and I feel like Australian cricket fans feel right now."
Sutherland said he had spoken to Smith about the team's behaviour before the ball-tampering incident, following a number of controversial incidents during the series with South Africa, but had not done so since Bancroft's charge.
"I have very strong and clear views about the responsibility of the Australian team to play the game in the right spirit," he added.