North-South 50-over series to be reviewed by ECB as format change considered
Last updated on .From the section Cricket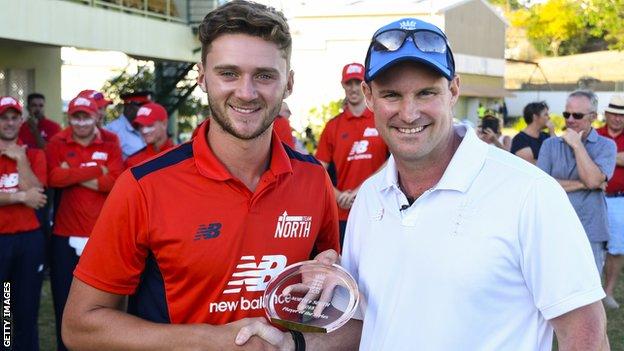 The North-South series is unlikely to take place in 2019 in its current format, says director of England cricket Andrew Strauss.
The three-match 50-over contest has been running for two years, with both sides having won it once.
"I really think we've got something to build on. This North-South rivalry has a really strong future," said Strauss.
"We'll take a bit of time to speak to everyone involved and review this year's series."
The teams are made up of the eight highest-ranked players - according to the Professional Cricket Association MVP ratings - and three players chosen by the England selectors.
The series, played this year in Barbados, was designed as a warm-up for the Royal London One-Day Cup and to help players prepare for international cricket.
It is possible it will not take place at all in 2019, with England's focus on hosting the ICC World Cup early that summer.
Strauss added: "We've got an opportunity to think about it creatively, whether as a way of ensuring our leading white-ball cricketers have the stage to play some high-quality 50-over cricket after the introduction of our new domestic structure from 2020, or maybe taking this North-South rivalry into red-ball cricket."