South Africa v Australia: Darren Lehmann criticises 'disgraceful' abuse from crowd
Last updated on .From the section Cricket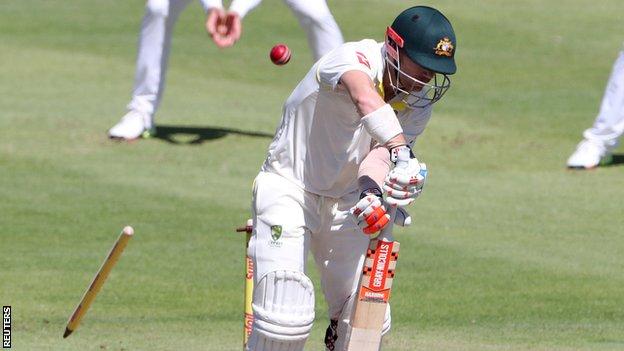 Australia coach Darren Lehmann has criticised the "disgraceful" verbal abuse towards his players by the South African crowd at Newlands.
Cricket Australia had sent a letter of complaint to Cricket South Africa after the second day of the third Test.
One fan was ejected from the members' area after an exchange with opening batsman David Warner.
"You can have your banter, but they have gone too far here. I think it's been disgraceful," Lehmann, 48, said.
"You are talking about abuse of players and their families, it's not on anywhere in the world."
Warner was returning to the dressing room after being dismissed for 30 when he was confronted by a spectator.
The Australian was involved in an altercation with Proteas wicket-keeper Quinton de Kock in the first Test, which led to both players being fined by the International Cricket Council.
Five players have been sanctioned by the ICC in the four-match series so far, although South African pace bowler Kagiso Rabada successfully appealed his two-match ban earlier this week.
The series is currently level at 1-1.
"They (the crowd) have got to be better than that when they come to international events," Lehmann added.
"Not on this level, we cannot accept it anywhere in the world. There have been various incidents throughout the series, but it has been particularly bad in this Test."
Australia ended the day on 245-9 in response to South Africa's first innings score of 311.