Concussion in cricket: Replacements added to laws for 2018 county season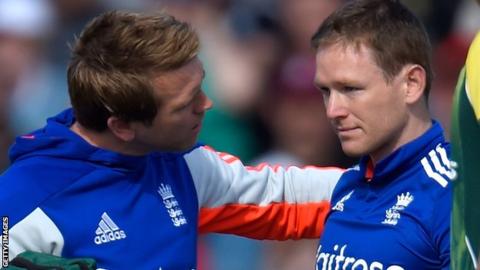 Concussion replacements will be available for the first time in English county cricket during the 2018 season.
As a result of a new law, teams will be able to replace a player who has concussion or a suspected concussion.
The substitute will be eligible to bat and bowl in the game, but the new player must be deemed a "like for like" replacement by match officials.
The new rule will apply in the County Championship, One-Day Cup, T20 Blast and Women's Super League.
It has been added to the laws of cricket by the Marylebone Cricket Club and will be overseen by a cricket liaison officer or the on-field umpires.
"This is a change made in the interests of player safety and health," said the England and Wales Cricket Board's chief medical officer Dr Nick Peirce.
"While concussion is not as common in cricket as in contact sports such as rugby, our research has shown an average of around 15-20 incidents in first and second team cricket during each of the last few seasons."
A player who has been struck on the head will undergo a five-minute on-field assessment and, if there are concerns, they will leave the pitch and the cricket liaison officer can make a decision on a replacement.
Alan Fordham, the ECB's head of cricket operations, said "like for like" would "need some flexibility and interpretation" but sides should not be allowed to benefit from the replacement player.
For example, an injured batsman can not be replaced by a specialist bowler and a fast bowler can not be swapped for a spinner.
Other additions
The MCC made other new additions to the laws in October, with a clamp-down on player conduct, limitation on bat size and a banning of "mock fielding" among the introductions.
This season umpires will have the ability to send players off the field for poor conduct and give five-run penalties.
Levels of offence range from one to four, whereby one is a warning, two is a five-run deduction and three and four will see a player sent off, either temporarily or permanently.
In an attempt to balance the contest between bat and ball, bats are now limited to a thickness of 40mm, and a depth of 67mm.
Meanwhile, a "deliberate attempt by a fielder to deceive the batsman" will also incur a five-run penalty.