Kagiso Rabada: South Africa pace bowler's ban reduced after appeal
Last updated on .From the section Cricket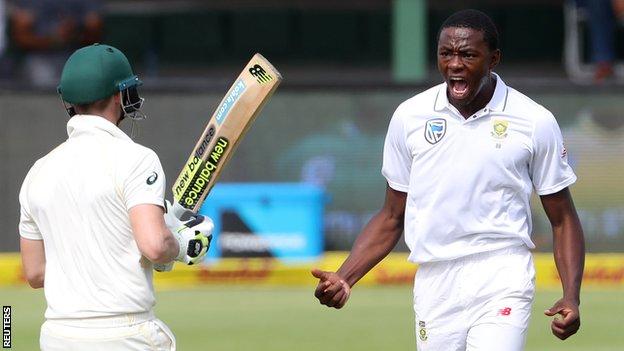 South Africa pace bowler Kagiso Rabada can play in the final two Test matches against Australia after he won an appeal to have his series ban reduced.
Rabada was given three demerit points after being deemed to have deliberately made contact with Steve Smith after dismissing him in the second Test.
That took the 22-year-old to eight demerit points in a 24-month period an an automatic two-Test ban.
But his punishment was reduced to one demerit point on appeal.
His fine was also brought down from 50% of his match fee to 25% for the offence.
A statement from the International Cricket Council said Rabada had "been found not guilty of the charge of making inappropriate and deliberate physical contact with a player" and instead been "found guilty of conduct that is contrary to the spirit of the game".
It added it had "imposed a sanction of a fine of 25% of his match fee and one demerit point".
"This brings the player's demerit points to a cumulated total of seven and he is free to play with immediate effect."
Rabada took 11 wickets in the second Test at Port Elizabeth to help the hosts level the four-match series at 1-1.
The third Test starts on 22 March in Cape Town.
Australian spin bowler Nathan Lyon said his team respected the ICC decision. "It's not for me to sit here and say whether it is right or wrong," he added.
"As Australian cricketers we always want to play against best and he is the number one bowler in the world, so it will be a challenge for all of us that have to bat," Lyon told reporters.
Rabada 'lacked respect for his fellow player'
"The key issue is whether Mr Rabada made 'inappropriate and deliberate physical contact' with Mr Smith," said Michael Heron QC, who heard the appeal.
"I am not 'comfortably satisfied' that Mr Rabada intended to make contact and I therefore find him not guilty of the charge under 2.2.7.
"I am entitled, however, to consider whether the conduct involved constitutes a lower level offence.
"I consider the conduct was inappropriate, lacked respect for his fellow player and involved non-deliberate and minor contact. The actions contravened the principle that a dismissed batsman should be left alone."
ICC chief executive David Richardson added: "This is perhaps an opportune moment to remind all players of their responsibilities to maintaining a standard of behaviour which sets a good example to players at all levels of the game, especially the young players."